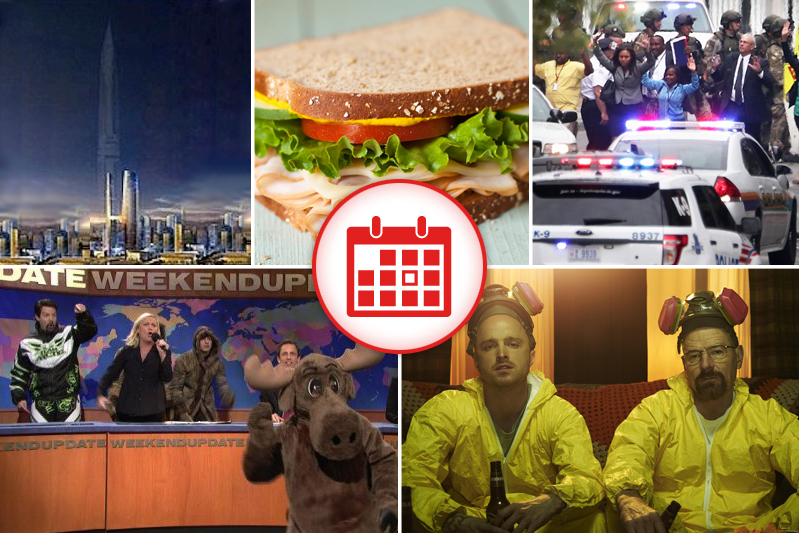 1. SNL Announces Six New Hilarious Comedians Who Will Do Middling Work On TV For A Few Years Before Launching Successful Movie Careers
Saturday Night Live yesterday announced the six new insanely talented and driven comedians who will spend the next several years doing some so-so work playing the kind of overly-broad characters that your uncle finds funny on late night television before slowly branching off into well-regarded but small roles in major studio films and ultimately launching successful movie careers of their own and one of them will probably almost get nominated for an Oscar for a serious role in a movie about cancer or something. They are Beck Bennett, Kyle Mooney, Mike O'Brien, John Milhiser, Brooks Wheelan and Noel Wells, who is probably best known for her Zooey Deschanel impersonation on YouTube.
Congrats to new SNL cast members Fred Phelps, Angela Lansbury and Casey Anthony.

— billy eichner (@billyeichner) September 16, 2013
2. South Korea Building "Invisible Skyscraper"… Or Have They Already?
The South Korean government recently approved the construction of the Tower Infinity, 1,476-foot "invisible" skyscraper. The building, which will be built in the city of Incheon — assuming it hasn't been built already — will seem to disappear at certain times or day from certain angles if you look at it just right and kind of exercise a little suspension of disbelief. The illusion is created through the use of cameras and LED screens that will record and display what's behind the building. Or will they? (Yes, they will.)
I don't like the idea of that invisible skyscraper they're building in S. Korea. That thing's just asking Wonder Woman to fly a jet into it.

— Dennis DiClaudio (@dennisdiclaudio) September 17, 2013


3. Albuquerque Rehab Center Giving Away Two Breaking Bad Scholarships To Honor Show That Probably Helped Build Its Clientele
HealthShire, a rehab clinic in Albuquerque, New Mexico, has announced that it will "honor the end of Breaking Bad [by] bringing awareness to mental health and addictions treatment in our community." The clinic is offering two free scholarships to its 12-week addictions treatment program: One for the show's sociopathic megalomaniacal main character and the other for the hollowed-out shell of a human being secondary character who is probably going to end up killing the lead character, don't you think? Or maybe not. Hopefully? Ugh! This is so stressful! We just want it to be over. No, we don't! Aaaaahhh!!
Peer pressure to try meth is far less intense than peer pressure to get you to watch Breaking Bad.

— Joshua Karpati (@jkarpati) September 16, 2013


4. Media Really F*&%ed Up Covering The Washington Navy Yard Shooting Yesterday
The media had one job in covering yesterday's tragic shooting incident at the Washington Navy Yard that left 13 dead allegedly at the hands of Aaron Alexis: Report the facts. Man, did it fuck that up spectacularly.
Fox News: We don't have many details on the Navy Yard shooting, but we can confirm that Obama is screwing it up.

— Rex Huppke (@RexHuppke) September 16, 2013

5. "Toothless Man Bites Neighbor's Penis Like a Sandwich" Is A Headline In The World Today
A nearly-toothless man from Kent, UK was found guilty of biting down on a pajama-wearing neighbor's "bits and bobs" with his gums so hard, during a fight over loud Xbox music, that the neighbor's penis required stitches. And now that image is inside your head. And there's not a goddamn thing that you can do about it.