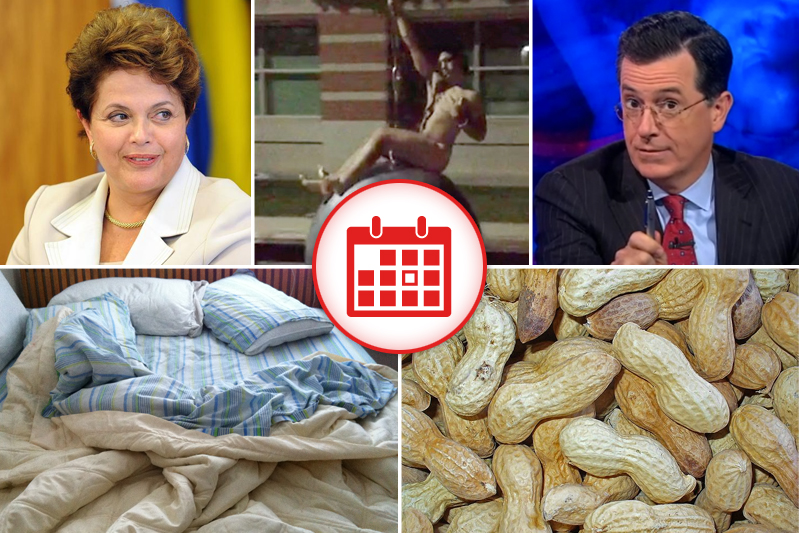 1. Study: Those Snot-Nosed Little Fuckers With Food Allergies Cost Around $4K Per Year
According to a new study in JAMA Pediatrics, in addition to sapping all of their parents' energy and turning them into obsessive compulsives who read the ingredients in everything fifteen times before opening the box, children with food allergies wind up costing their families approximately $4,200 extra a year for special foods, accommodating schools and lost wages for time spent micromanaging teachers, camp councilors, dorm roommates, and department supervisors.
There's two new Pop-Tart flavors! Peanut Butter and Frosted Chocolate Peanut Butter. Kellogg's clearly hates children with peanut allergies.

— Aaron Glaser (@aaron_glaser) May 15, 2013


2. Stephen Colbert Wins The Miss America Argument With Two Words
Just when you thought there was nothing more to be said about the unfortunately non-shocking racist Internet response to New York's Nina Davuluri — who, though not snowy-white and blonde, is neither Arab nor a Musilim — becoming the first Indian-American woman to be crowned Miss America this past weekend, Stephen Colbert somehow managed to point out an incredibly obvious irony that mostly everyone else seemed to miss. Referring to all the mouth-breathers who tweeted "Miss America Terrorist", he mused, "705 people saw a woman in a bikini and thought, 'Muslim Extremist.' 
After Nina Davuluri of New York won Miss America, the Texas legislature is considering a bill to "secede from the Miss America pageant."

— Top Conservative Cat (@TeaPartyCat) September 18, 2013


3. College Removes Giant Dangling Ball Sculpture After Students Do The Inevitable And Ride It Naked Pretending To Be Miley Cyrus
Grand Valley State University in Michigan had its campus landmark — the Pendulum Statue, a a giant steel ball hanging from a sturdy cable — dissembled yesterday, after students started swinging naked from it, a la Miley Cyrus' "Wrecking Ball" video and posting the results online. As if there was ever anything thing else that could possibly happen.
If you pretend the "Wrecking Ball" video is a statement about testicular cancer awareness, it's actually quite powerful. No, not really.

— Aaron Fullerton (@AaronFullerton) September 10, 2013
4. Instead Of Being Flattered We Care Enough To Spy On Them, Brazilian President Cancels U.S. Visit Amid Spying Allegations
Brazilian President Dilma Rousseff — who for some reason isn't viewing the recently-disclosed news that the NSA is spying on her as a kind of compliment — has decided to cancel a state visit to the U.S. scheduled for next month. In lieu of visiting with the president of a country that is engaged in espionage against her own while getting savaged in the Brazilian press, Rousseff has opted to stay home and probably get re-elected.
Brazil's president is upset over U.S. spying. Maybe if we keep spying on her, we'll figure out the best way to apologize.

— CC:Indecision (@indecision) September 17, 2013


5. The Thread Count Of Your Sheets Is As Meaningless As The Sex You Had On Them After Closing Time Last Night
Any thread count above 400 for the bed sheets on which you have rote passionless sexual intercourse after returning from the bar with the least offensive person who most reminds you of your ex is pretty much pointless, according to a comparison test conducted by Consumer Reports. The additional money spent on 1,000 thread count sheets  — which are not appreciably more comfortable while you're curled up in the fetal position trying to pretend you're alone in the room — could be better spent on despair-numbing alcohol. 
I only use high thread count sheets to ensure that I have the most luxurious night terrors

— Eliza Bayne (@ElizaBayne) May 23, 2013