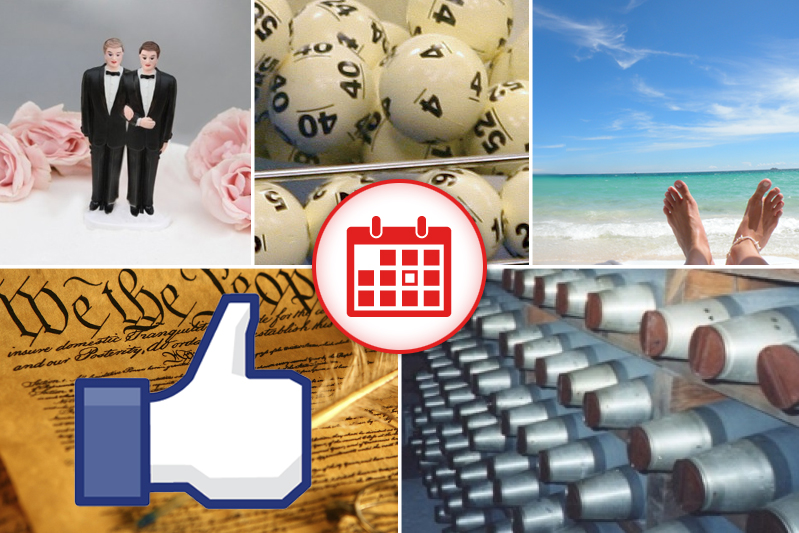 1. Federal Judge Upholds The Constitutionality Of Liking Shit On Facebook
In a case dating back to 2009 — when two employees of the Hampton, Virginia sheriff's department were fired for "liking" the campaign page of a rival candidate for sheriff on Facebook — a federal appeals court yesterday ruled that Facebook "likes" should be considered constitutionally-protected free speech under the First Amendment , despite the fact that the Founding Fathers had no awareness of Facebook and were probably mostly just on Friendster.

2. Some Lucky Guy Just Won Whatever Small Amount Of The $400 Million Powerball Jackpot The Government Lets Him Keep
An unknown ticket holder in Lexington, South Carolina just became a couple million dollars richer after winning yesterday's $400 million Powerball jackpot. This is the fourth-largest lottery prize win in U.S. history, so the winner, who has yet to come forward, will have the honor of handing a nearly-unprecedented amount of his or her winnings over for state and federal taxes. Congratulations, whomever you are!

3. U.S. Government Now Recognizing Same-Sex Marriages In The Most Boring Way Imaginable
Same-sex married couples nationwide will now be recognized by the federal government, not due to a court ruling or the congressional passage of an equality bill, but because the U.S. Department of Labor has decided to use a "place of celebration" rule instead of a "place of domicile" rule when considering marriage unions with respect to private employee pension and related benefit plans. Very exciting day for civil rights!