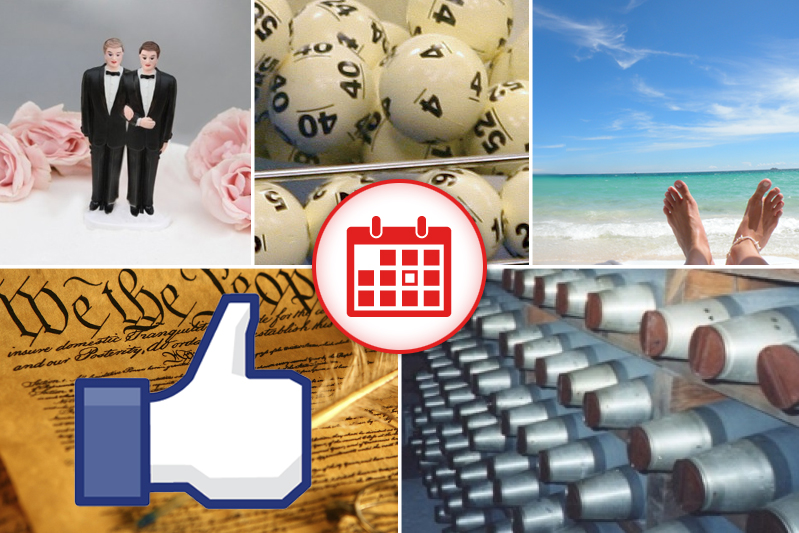 1. Federal Judge Upholds The Constitutionality Of Liking Shit On Facebook
In a case dating back to 2009 — when two employees of the Hampton, Virginia sheriff's department were fired for "liking" the campaign page of a rival candidate for sheriff on Facebook — a federal appeals court yesterday ruled that Facebook "likes" should be considered constitutionally-protected free speech under the First Amendment , despite the fact that the Founding Fathers had no awareness of Facebook and were probably mostly just on Friendster.

2. Some Lucky Guy Just Won Whatever Small Amount Of The $400 Million Powerball Jackpot The Government Lets Him Keep
An unknown ticket holder in Lexington, South Carolina just became a couple million dollars richer after winning yesterday's $400 million Powerball jackpot. This is the fourth-largest lottery prize win in U.S. history, so the winner, who has yet to come forward, will have the honor of handing a nearly-unprecedented amount of his or her winnings over for state and federal taxes. Congratulations, whomever you are!

3. U.S. Government Now Recognizing Same-Sex Marriages In The Most Boring Way Imaginable
Same-sex married couples nationwide will now be recognized by the federal government, not due to a court ruling or the congressional passage of an equality bill, but because the U.S. Department of Labor has decided to use a "place of celebration" rule instead of a "place of domicile" rule when considering marriage unions with respect to private employee pension and related benefit plans. Very exciting day for civil rights!
In about three months, there's been more progress on same-sex marriage than during Rush Limbaugh's last three marriages.

— LOLGOP (@LOLGOP) August 30, 2013

4. Bashar Assad Becomes Last Person On Earth To Accept That He Has Chemical Weapons
Bashar al Assad officially became the last breathing human being on Earth to acknowledge that his country does in fact have chemical weapons. During an interview with former Rep. Dennis Kucinich and Fox News reporter Greg Palkot, the Syrian president declared "It's not a secret anymore," with regards to the weaponized toxic substances that literally every person in the world already knew his military forces used against civilians. Agreeing to U.S. and Russian terms to destroy the weapons, he says it will take a year for the stockpiles that he now admits exist to cease to exist.
"Oh, 'CHEMICAL' weapons! No, yeah, we used a bunch of those." -Assad

— Miles Kahn (@mileskahn) September 19, 2013

5. Sweden Ends The Madness, Allows People To Crank One Out On Public Beaches
Beach-goers in Sweden have finally gained the right to stick their hands down the front of their bathing suits and quietly pleasure themselves without bothering anyone or even making it particularly clear which golden-haired statuesque bikini-clad fellow beach-goer is currently occupying their imaginations. The court ruling is in response to a 65-year-old man's arrest for for sexual assault after being caught doing what nature intended on a busy public beach. No word yet on whether the ruling will be applied retroactively for tourists who maybe visited the country back around 2004-2005.
#TDSBreakingNews Swedish court: Public masturbation not a crime. Sweden Tourism Board immediately updates its website's "To Do" section.

— The Daily Show (@TheDailyShow) September 18, 2013