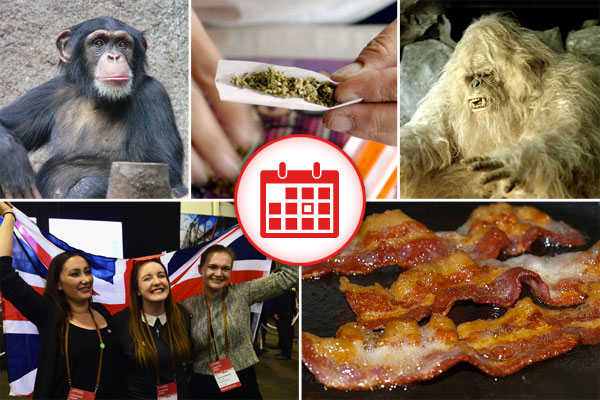 1. Scotland Votes Overwhelmingly For Continued Subjugation And The Status Quo
Scottish citizens made their voices heard loud and clear yesterday, using their 55.3 percent of the vote to state loudly and emphatically that they are quite content with their place under the boot heel of the English monarchy, where they have spent the past three hundred years. 
Sorry, Scotland. You voted, and you're all going to have to start speaking English now.

— Dr. Twittenheimer (@DrTwittenheimer) September 19, 2014

Scotland's failed bid for independence is reminiscent of when I was going to finally move out of Dad's house at age 22, but then didn't.

— Mark Leggett (@markleggett) September 19, 2014

2. Study: 10 Percent Of Americans—And 100 Percent Of Your Dumbass Roommates Named Dave—Have Gone To Work High 
According to the results of a new survey, nearly one in ten Americans have at one time or another gone to work under the intoxicating effects of marijuana. The data unfortunately does not show how many of them ended up accidentally baking their co-workers in the oven or running their supervisors through with broadswords while under the delusion that they were battling a fierce dragon. Former Rep. Barney Frank recently explained why this sort of dangerous and deviant behavior will likely soon be legal nationwide:
Long ago I used to go to work stoned as a matter of principal and now it sounds like some cruel exercise in self torture.

— aleashuhh (@aleashuhh) September 19, 2014

3. Research: Chimpanzees Did Not Need Humans To Teach Them How To Be Murderous Assholes
A new study of chimp-on-chimp murder over the past several decades seems to suggest that humanity's closest primate relatives have a natural inclination toward infighting and lethal violence, regardless of the influence exerted upon them by human civilization. However, they have yet to fine tune their killings and figure out how to turn them into profits for shareholders.
Learned chimpanzees have four thumbs, and now I don't feel better than them anymore.

— Josh Gondelman (@joshgondelman) September 7, 2014

4. Yeti Experts: The Elusive Creature Has Arrived In Moscow, Possibly As Mistress Of Vladimir Putin
A Russian Bigfoot researcher is claiming to have found proof that the most storied cryptozoological biped has made its way into Moscow's city limits. Rhettman Mullis says that he has found a piece of bark within the city that appears to have been marked by a large Sasquatch-like primate. Mullis told the Moscow Times that he believes the Yeti "is cosmopolitan... I am not worried. They are benevolent and need our protection." Sounds convincing. Pieces of bark don't lie.
Creatures like the Yeti, the Loch Ness Monster, Danny DeVito or The Wurdalak permeate our consciousness until they seem almost real

— Michael Kupperman (@MKupperman) September 10, 2014

5. Ig Nobel Prizes Go To A Bunch Of Stuff That Seems Way Cooler Than The Actual Nobel Prizes
As everybody knows, the annual Nobel Prize announcements are usually a total snoozefest. The same cannot be said for the Ig Nobel Prizes, which is a cooler, less-solemn set of honorariums. This year's winners include a people who figured out how to halt nosebleeds with cured pork, scientists who discovered that dogs align their bodies with the Earth's magnetic field lines when they poop, and some arctic researchers who answered the ancient question of how reindeer respond to seeing people dressed up as polar bears.
I'm so into science I masturbate into test tube socks.

— Ed Galvez (@EdGalvez) September 16, 2014

(by Dennis DiClaudio)