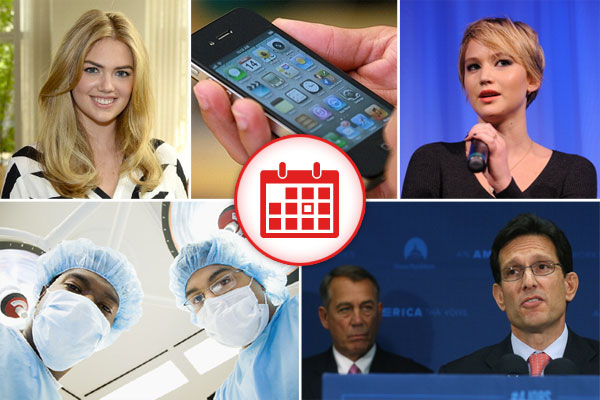 1. Internet Creeps Befoul Cancer Charity With Their Gross Jennifer Lawrence-Obsessed Money
After getting their fill of leaked nude pictures of celebrities like Jennifer Lawrence, Kate Upton and that one chick from Glee, whatever her name is, many Internet denizens attempted to deal with their guilt by donating to the Prostate Cancer Foundation to honor all of the good their photos have done for men's prostates lately. (Yuck.)
I call my butthole "Jennifer Lawrence" but no one cares when that leaks.

— Matt Koff (@mattkoff) September 1, 2014

2. CNN Asks The Tough Question In Wake Of Nude Celebrity Photo Scandal — Who Is This 4chan Fellow?
CNN showed its true worth in this modern era of technology, when 15-year-old kids in their parents' basement can upend the lives of celebrity millionaires by hacking into their personal cloud storage accounts and releasing intimate materials for the world to see. Not a channel to look away from a potentially dangerous line of questioning, CNN had its technology analyst Brett Larson wonder on air who this 4chan person might be. Obviously, he's Asian, but is he half-mathematical equation?
Just got a chill in my spine thinking that 4chan users secretly walk among us

— Sara Schaefer (@saraschaefer1) August 31, 2014

3. Chastened Rep. Eric Cantor To Hide His Tail Between His Legs And Scurry Off To Make Unimaginable Millions On Wall Street 
Now that Rep. Eric Cantor lost his primary election and will not be running for Virginia's 7th congressional seat, which he currently occupies, he will be forced to leave public office and enter the private sector. Cantor has already secured a job as a lowly vice chairman for the investment firm Moelis & Co., taking home approximately $3 million in his first year of work. The shame... the crippling shame.
Eric Cantor got a job on Wall Street, though technically it's only a formality since he's been doing their bidding for years.

— Top Conservative Cat (@TeaPartyCat) September 2, 2014

4. Apple Will Allow Customers To Embed Their Monetary Worth, In Addition To Their Self Worth, In iPhone 6
According to rumors floating around the tech industry, the upcoming iPhone 6—which is expected to be formally unveiled this Saturday—will function as an electronic wallet, holding all of its owner's digital money. This will make it much easier to purchase items in retail stores and to ruin every aspect of your life when the device slips out of your jacket pocket on the subway.
I can't wait for the iPhone 6 to arrive so people can start to feel pointlessly insecure about not having the iPhone 7.

— Ben Greenman (@bengreenman) August 30, 2014

5. That A-Hole Who Just Cut You Off On The Highway Is The Guy Who's Gonna Operate On Your Mom's Heart Later On
According to a new study, some of the worst offenders on the highways are also the ones that we're trusting to cut us open with scalpels and move stuff around all up in our guts. Research shows that of the ten professions most likely to cause car accidents, a whopping nine of them are medical workers.
I got soup instead of the salad I ordered, and now I know exactly how a patient feels when the surgeon amputates the wrong leg.

— Jason Roeder (@jasonroeder) August 16, 2014

(by Dennis DiClaudio)