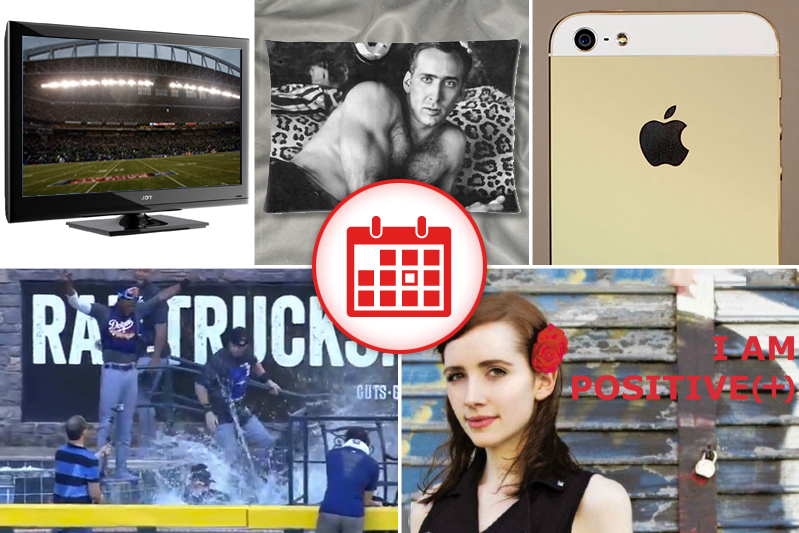 1. Overprivileged Nerds Worldwide Celebrate Release Of New, Arguably-Improved iPhone
People from all of the world, instilled with a sense of unease by their their lives of relative comfort and leisure, have managed to find some small fleeting measure of satisfaction after spending hours waiting in line to use their expendable incomes to purchase a brand new iPhone 5s, which officially went on sale today. For some consumers, though, the existential dread was deepened after they were forced to back order the newly-available gold-colored phone, which is in short supply. Like happiness.
Before you complain, remember there are starving children in Africa still using iPhone 3s

— Erik Tanouye (@toyns) September 20, 2013

2. L.A. Dodgers Clinch Playoff Slot, Meaning They Could Totally Just Not Even Show Up For The Rest Of The Season If They Wanted to
The Los Angeles Dodgers guaranteed themselves a spot in this season's playoff games after last night's 7-6 victory over the Arizona Diamondbacks. The team celebrated the fact that they can spend the rest of the season showing up drunk and doing whatever the fuck they want by jumping into the pool the Diamondback's keep set up for some reason by the right field fence because who was going to stop them?
The dodgers were asked not to celebrate on the Diamonadbacks' field, which is exactly why they got in their pool.

— Alison Agosti (@AlisonAgosti) September 20, 2013

3. Stock Photo Model Sues After Becoming Literal Poster Girl For HIV/AIDS
A 25-year-old stock photo model from Brooklyn is suing Getty Images for $450K after they allowed her image to be used in an advertising campaign promoting HIV-positive people's rights. Avril Nolan — who likely entered into her business transaction with the photo-licensing company for the short-term benefits it provided without fully protecting herself against such a contingency — claims that having her face plastered all over the city next to the words "I Am Positive (+), I Have Rights" has had adverse affects on her personal and professional life. Wonder if there's anyone out there who understands what she's going through.
"i'm positive" -- the least helpful answer to "are you sure you don't have HIV"

— Myq Kaplan (@myqkaplan) July 24, 2013

4. Report: TV Viewers Prefer A Rained-Out Football Game To 60 Minutes, America's Got Talent
Discerning television viewers have spoken: Looking at a bunch of rain fall on a soggy deserted football field while commentators struggle to find anything of value to discuss is quality television. A list of the highest-rated programs of the week showed that last night's top-rated Football Rain Delay during the 49ers-Seahawks game drew 17.84 million viewers, double that of America's Got Talent. The rain-on-field show also out-performed 60 Minutes by a full 5 million viewers, which is only slightly less than the entire viewership of Breaking Bad's highest-rated episode.
A rain delay in the NFL? Man, this country sure has gone soft under Obama.

— Top Conservative Cat (@TeaPartyCat) September 6, 2013

5. You Will Never Believe How Many Nicolas Cage Pillowcases There Are For Sale On The Internet
Most weird things, you think, "Well, somebody's got to be into that, so there's probably at least one of those for sale online. Maybe two." A Nicolas Cage pillowcase, though? There's something really special about that. So, maybe there's five of those available. Wait, more? Okay, we're probably overshooting here, but let's go with ten. No? Twenty? Higher??? Believe it or not, the correct answer is sixty-fucking-seven!!! There are 67 Nicolas Cage pillowcases avaialble for you to purchase through Amazon right now. That's at least twelve too many Nicolas Cage pillowcases for a healthy society. 
We all agree that Nicolas Cage is the greatest actor of all time. But is he also the greatest human being of all time?

— Skygazing Cat (@mitdasein) July 5, 2013