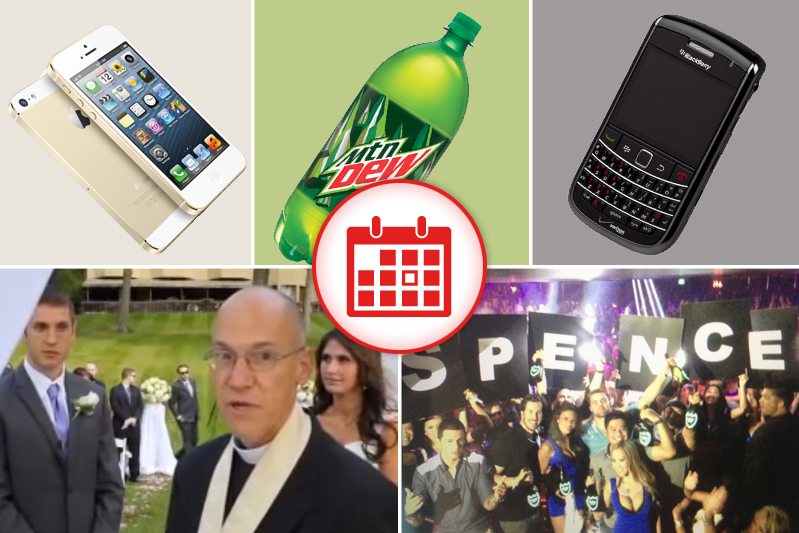 1. Business Plan Involving iPhones And A Whole Bunch Of Homeless People Ends About As Poorly As You'd Imagine
A Pasadena entrepreneur, who hired several dozen homeless people to wait in line in front of an Apple store and buy iPhones for him, had to be escorted away under police protection after his "business plan" came to light by store management and his "employees" became enraged upon realizing they would not be sold phones, and would therefore not be paid, and "unionized" to take their "compensation" out of his ass. (And that's nothing compared to what the psychopaths waiting in line would have done to him if the store ended up running out of iPhones before they could buy one.)

2. Pastor Disrupts Wedding Ceremony To Keep Photographers From Disrupting Wedding Ceremony
A pastor in a video recently uploaded to YouTube was caught on camera interrupting the wedding ceremony that he himself was conducting to berate the photographers who apparently were in danger of ruining the "solemn assembly" with their moment-capturing devices. "This is not about the photography, this is about God," he said angrily before the guests of the multi-thousand dollar holy event.

3. BYU Football Player Suspended For Mormon Equivalent Of Murdering A Hooker While High On Cocaine
Spencer Hadley, senior linebacker for Brigham Young University, was suspended for violating the Mormon-run school's honor code by committing an act so unimaginable, so soul-reckoning, so depraved and debased that we shudder to print his actions here. (Please, if you have young children nearby, send them from the room and tell them to hide themselves in a darkened closet beneath a pile of blankets until you have finished reading the next sentence.) He was photographed holding a bottle of Dom Pérignon champagne in a room full of apparent alcohol-drinkers, some of whom displaying gratuitous cleavage. Hadley's football suspension will last five games, but his soul's torment in the unquenchable fires of Hell will likely be eternal.
The world would be a much better place without guns, religion, and college football

— Mike Lawrence (@TheMikeLawrence) September 6, 2013

4. Mountain Dew Doing To Appalachian Children's Teeth What Crystal Meth Is Doing To Their Parents' Teeth
Children growing up in West Virginia and the Appalachian mountains are getting a head start on the gnarled rotted-out teeth that many of the methamphetamine-using adults around them display. A quarter of preschoolers in the area already show some tooth decay and 15% have a least one lost tooth by the age of 24. Some experts think it might be partly related to the Mountain Dew soda that's poured town their throats beginning shortly after birth.
If you really want someone who represents America accurately, Miss America should be an overweight internet troll who drinks Mountain Dew

— Jake Weisman (@weismanjake) September 16, 2013

5. Your Douchey Boss Is Going To Have To Get A New Phone, BlackBerry Going Out Of Business
Your manager — the one who reads emails while talking to you and has never made eye contact in the three years you've been working together — is going to have to find a new brand of phone to clip to his belt, as his beloved BlackBerry seems to be on its way out. The company is laying off 4,500 employees after losing nearly $1 billion last quarter.
BlackBerry should have just stuck to making pies

— indie claws (@Skullcat) September 20, 2013