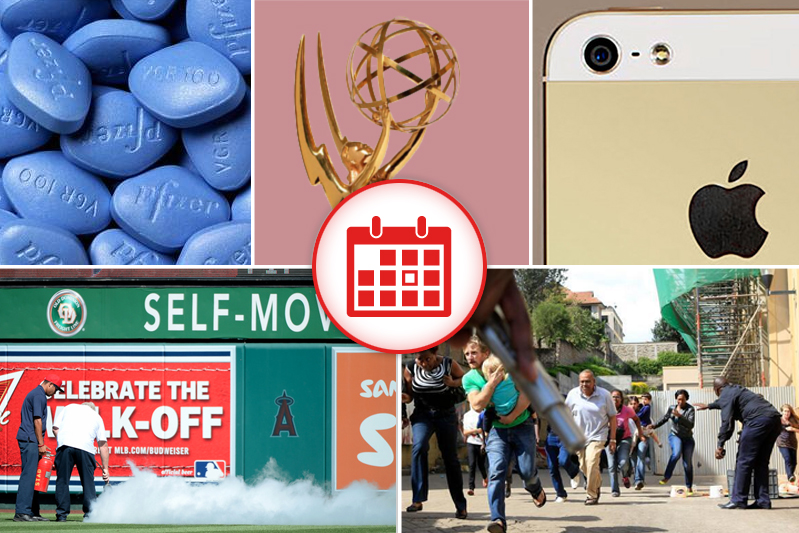 1. Lots Of Things Happened At The Emmys Last Night And None Of Them Involved Honey Boo Boo Winning An Award
If you happened to miss the 2013 Emmy Awards, don't worry. Here is literally everything you need to know about them...
* Breaking Bad, Modern Family and Behind the Candelabra unsurprisingly took the top honors, while their producers — also unsurprisingly — tried to pretend like this was a surprise.
* However, Anna Gunn wound up being the only Breaking Bad cast member to win an award for acting, probably just to annoy all the Skyler haters out there.
* After winning an award for Outstanding Supporting Actress in a Comedy Series, Nurse Jackie's Merritt Wever gave an acceptance speech that you will not be sad that you watched.
* Eight-time Emmy nominee Jon Hamm continued his perfect streak of not winning Emmys, when he watched Jeff Daniels walk away with the award for Outstanding Lead Actor In A Drama Series for his portrayal of a self-righteous know-it-all windbag on HBO's The Newsroom.
* Kevin Spacey, who also lost to Daniels, took out his frustration on a poor defenseless cameraman who was innocently jamming a camera up his nostril.

2. While America Was Busy Watching Hollywood Fellate Itself, A Mall In Kenya Was Under Siege By Terrorists
Meanwhile in Nairobi, Kenya, Somalia-based terrorist group Al-Shabaab's siege of the Westgate Shopping Mall, which began on Saturday morning, continued into its third day, with approximately ten people being held prisoner within and many other dead. Though there are a number of disturbing tweets going around the Internet, we've yet to find any funny gifs to accompany this story at the moment. Sorry for any inconvenience this may cause.
The #Emmys should have run a crawl with updates from the Kenya Mall massacre just to make sure no one was happy at any point.

— Krister Johnson (@KristerJohnson) September 23, 2013

3. Man Has Penis Amputated After Learning Why You're Not Supposed To Take Too Much Viagra
A 66-year-old Colombian man had to have his penis amputated following a several-day-long erection brought on by an overdose of Viagra, which he took in an attempt to "please his new girlfriend." After seeking medical help, doctors were "alarmed" to find his penis  inflamed, fractured and showing signs of gangrene, which could have spread to the rest of his body had it not been cut away. No word on whether or not his new girlfriend was pleased with the results.
No thanks, Viagra. I'm really enjoying how much less complicated my life is now that my dick don't work.

— Bryan Donaldson (@TheNardvark) June 16, 2013

4. Bee Swarm Briefly Makes Mariners-Angels Game Interesting
Baseball spectators who were presumably somehow forced to watch yesterday's Seattle Mariners-L.A. Angels game received a short reprieve from their boredom when the field was beset by a swarm of bees. Eventually, the flying insects lost interest in the two non-playoff teams and went on their way, leaving officials with no choice but to start the game back up again. 

5. iPhone 5s and 5c Already Almost 1.5% Of All iPhones In Use, Which Is Both Impressive And Scary
Less than a week after they went on sale, Apple's new iPhone 5s and iPhone 5c already accounts for 1.36% of all iPhones in use in the United States. This is an incredibly fast-moving virus we're dealing with here, people. No telling what percent of the iPhone market it will control by next week. Or next month. If we don't do something about this now, we stand to be completely immersed beneath a see of multi-chromatic iPhones by this time next year.
Consumers waited in line for the new iPhone. Upon opening the box, they were disappointed to find out that the phone still doesn't love them

— Michelle Wolf (@michelleisawolf) September 20, 2013