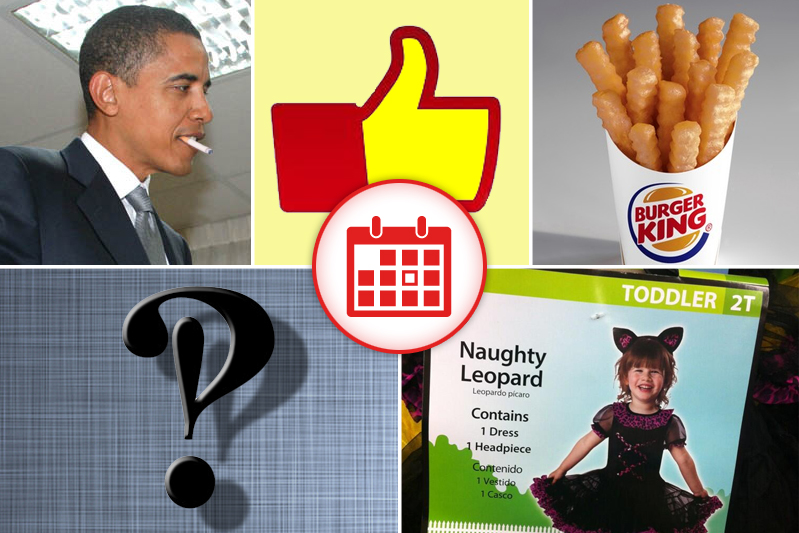 1. Burger King To Offer Lower-Calorie, Less-Delicious Fries
The fast food restaurant chain Burger King has announced that it will begin to offer a low-fat option for french fries. Their "Satisfries," in addition to having a goofy name, will contain 20% fewer calories than their normal fries and 30% less than the ones offered at McDonald's. They're expected to be 70% less popular.
BREAKING: Burger King unveils NEW french fries with 20% fewer calories! How do they do it? Asbestos.

— Jim Earl (@jimearl666) September 24, 2013

2. Facebook Coming To China, Kind Of
China will be ending will be ending its nationwide ban on social media websites. Instead, sites like Facebook and Twitter will only continue to be banned in all cities all across the country with the small exception of one small part of one city. In an attempt to lure business into their country, Chinese authorities will allow people living and working in its free-trade zone to continue Facebook stalking their exes on company time.
China says it will unblock Facebook and Twitter. Too late; I already blocked China on both.

— Keating Thomas (@keatingthomas) September 24, 2013

3. Wal-Mart Selling 'Naughty Leopard' Costume For Your Slutty Toddler
That little 3-year-old harlot of yours will finally have something decent to wear when she goes tramping around the neighborhood begging for tricks and treats this Halloween, now that Wal-Mart is providing a "naughty leopard" costume for girls aged 2 to 4.
Every year I'm impressed by the new innovations in sexy Halloween costumes. #sexytypewriter

— Paul Danke (@pauldanke) October 17, 2012

4. Happy National Punctuation Day, Grammar Assholes
Orthography pedants nationwide will today be celebrating their love of correcting minor infractions of the English language's rules for using its dizzying array of dots, dashes, ampersands and obeluses. Today is the tenth annual National Punctuation Day. Celebrants are encouraged to point out and mock other people's punctuation errors, just like they do every other day of the year.

5. Obama Hasn't Smoked In Six Years Due To Tired Marital Cliche
Barack Obama — who is now seemingly transitioning from his role as Chief Executive of the United States to that of a character in a lazily-written sitcom — was caught on microphone telling  U.N. official Maina Kiai that he hasn't smoked a cigarette in six years "because I'm scared of my wife." Just imagine the beating he got when Michelle heard this.
Obama jokes that Michelle "scared" him into quitting smoking. Did she threaten never to serve broccoli again?

— Warren Holstein (@WarrenHolstein) September 24, 2013