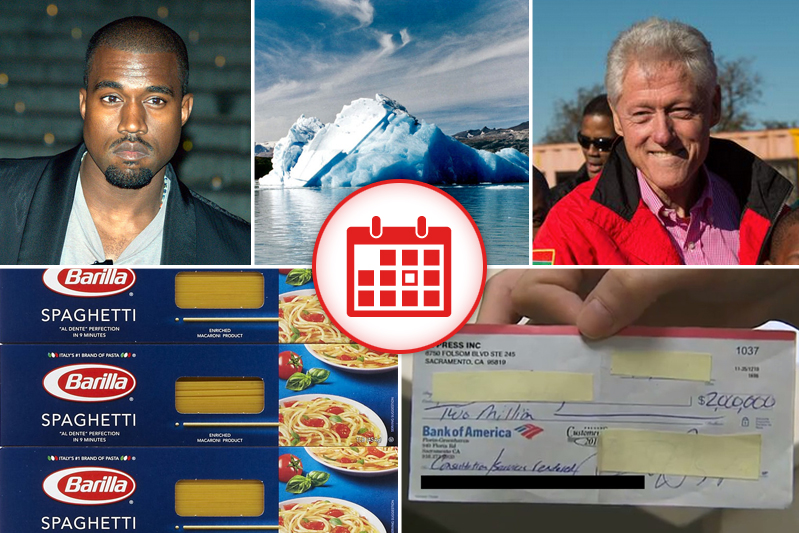 1. Kanye West Is Furious That Jimmy Kimmel Doesn't Treat His Ridiculous Behavior More Seriously
Hip-hop artist Kanye West unleashed a barrage of vitriolic capitol letters at Jimmy Kimmel on Twitter last night over a sketch in which the late night host cast two children to act out a recent BBC interview in whichKanye  West said a bunch of weird and conceited Kanye West-like things about how great Kanye West is.
JIMMY KIMMEL IS OUT OF LINE TO TRY AND SPOOF IN ANY WAY THE FIRST PIECE OF HONEST MEDIA IN YEARS

— KANYE WEST (@kanyewest) September 27, 2013
SHOULD I DO A SPOOF ABOUT YOUR FACE OR YOU FUCKING BEN AFFLECK…#NODISRESPECTTOBENAFFLECK #ALLDISRESPECTTOJIMMYKIMMEL!!!!

— KANYE WEST (@kanyewest) September 27, 2013
September 27, 2013
2. Global Warming Caused By Humans, According To U.N. Report That Will Not Make One Iota Of Difference To Deniers
A new climate change report from the U.N. — showing that humans are responsible for at least half of the global warming researchers have observed in the past several decades — will allow people who accept anthropogenic climate change to feel more smug than they already do while likely changing the mind of exactly zero climate change deniers who are unimpressed with things like research, statistics and facts.
UPDATE: Thanks to global warming, Iceland is changing its name to "Waterwater."

— Disalmanac (@Disalmanac) September 19, 2013


3. Bill Clinton And McDonald's Team Up To Promote One Thing Associated With Neither of Them: Healthiness
Former President Bill Clinton and fast food restaurant chain McDonald's announced yesterday that they will be working together to promote healthy eating and hopefully reverse the trend of obesity in America and the world. No, really. That's not a joke. They're planning to utilize Happy Meal packaging to "generate excitement" for fruits and vegetables. Still not joking. Totally serious.
If you want something healthy from McDonalds, try the napkins.

— Shane Mauss (@shanecomedy) January 25, 2011

4. Company That Makes Long Savory Shafts For You To Put In Your Mouth Boycotted Over Anti-Gay Remarks
The Barilla pasta company became the target of a boycott after its CEO Guido Barilla told a radio interviewer that his company would never feature gays in its advertisements because "the concept of the sacred family remains one of the basic values of the company" and that gay people can eat another kind of pasta if they don't like it. After it became apparent that people were following his advice, he issued an apology which somehow managed to be more offensive than his original statement.
Thanks a lot, Barilla pasta. Now what are our nation's gays supposed sodomize each other with?

— Miles Kahn (@mileskahn) September 27, 2013
@BarillaUS Here's a suggestion for your new pasta! pic.twitter.com/WX2bR3pU5t

— Dan The Man (@HesDanTheMan) September 26, 2013
5. Check For $2 Million Made Out To Some Idiot Found In Wallet On Subway
A wallet containing a check for $2 million — made out to an unidentified California man who's dumb enough to carry a check for $2 million around with him in his wallet — was found wedged between two doors on a Madrid, Spain Metro train. The wallet was apparently placed there by an unidentified thief who's dumb enough to leave a check for $2 million in a wallet that he just stole off of some moron.