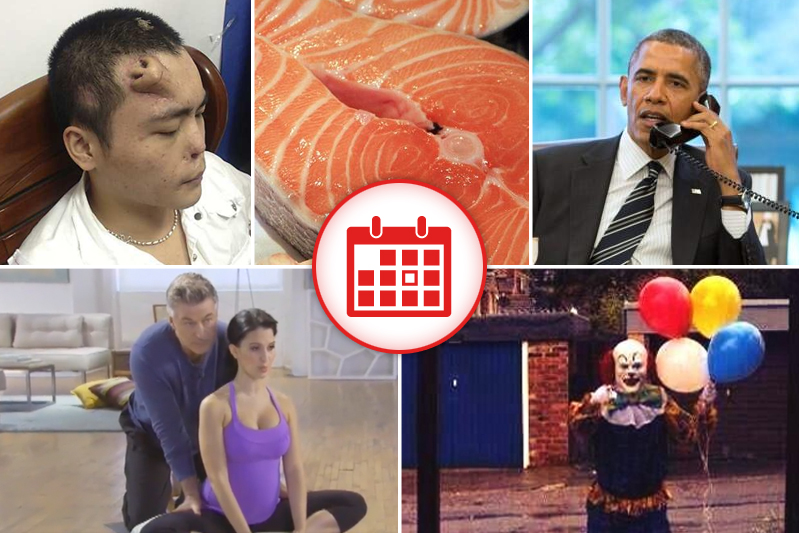 1. Creepy Clown Makes Life A Waking Nightmare For British Town
Northampton, England is being haunted by a "spooky clown" with red hair and a bunch of balloons. Nobody knows who this clown is or where he came from. They just know he's fucking terrifying. Police issued a warning after the nightmare-inducing clown was seen acting "suspiciously" on multiple occasions, and a vigilante who calls himself "The Clown Catcher" has vowed to rid the town of its clown problem. Really, though, the residents of Northampton should probably just pack up and move someplace else. It's not worth it.
BREAKING NEWS: The #northamptonclown is in Abington Street! pic.twitter.com/fZMjKI45UW

— Daniel Owens (@DanielOwens1979) September 15, 2013
He's back, scarier than ever RT @NthHamptonClown Caught in the act. #northamptonclown pic.twitter.com/qFjTL0l9m7

— Danny Kemp (@dannyctkemp) September 23, 2013

2. U.S. And Iranian Presidents Speak on Phone For First Time Since 1979, So They Probably Had A Lot To Catch Up On
U.S. President Barack Obama announced yesterday that he and Iranian President Hassan Rouhani had recently spoken with one another on the telephone. This marks the first time time the leaders of those two countries have had such direct communication since 1979. Coincidentally, that's also around the same time that I last spoke on the phone with Joey McGraph, just before the Star Wars action figure hostage crisis that shook Alberts Avenue to its core for about 14 months. Things were never the same between us after that.
A 15-min call between Obama and Iran's president may not sound big but it's longer than I've talked on the phone to any guy friend in 5 yrs.

— Matt Goldich (@MattGoldich) September 27, 2013

3. Doctor Builds Nose On Man's Forehead On Purpose
A Chinese surgeon created a second nose on a man's forehead, using cartilage from the man's ribs, because apparently that's a thing that science now allows for. Dr. Guo Zhihui is planning to transplant this newly-constructed proboscis to the man's face as a replacement for his original nose, which apparently has been damaged badly-enough to make this ordeal worthwhile.
How many more times will I have to look at a picture of a man growing a nose on his forehead before the internet will be happy?

— Clarke Kant (@clarkekant) September 26, 2013

4. Study: Charging More Money For Salmon Does Not In Fact Make It Taste Better
According to a recent taste test conducted by the Washington Post, the number on the price tag of salmon has little to do with its taste. Food connoisseurs were given samples of the fish, ranging in price from $20 a pound from high-end sources in places like Norway, Scotland and Chile to $6 a pound from the frozen food section Costco. In a terrible blow to food snobbery everywhere, the Costco salmon scored the highest. Many monocles were dropped into snifters of Grand Marnier.
I can't even afford farm-raised salmon. I get city-raised. Much tougher.

— David Angelo (@dwangelo) August 28, 2013

5. Alec Baldwin Is Incredibly Serious About Helping His Pregnant Wife Do This Yoga
Former 30 Rock star Alec Baldwin is very very intent on helping his wife Hilaria, who is pregnant with his child, with this yoga that she's doing for the camera. Apparently focusing all his energy on not blurting out any homophobic slurs at the cameraman or calling his unborn child a rude thoughtless little pig, Baldwin stares straight ahead into the middle distance while pressing into his wife's hips gently with his fingers facing toward himself. He remembers to breathe.