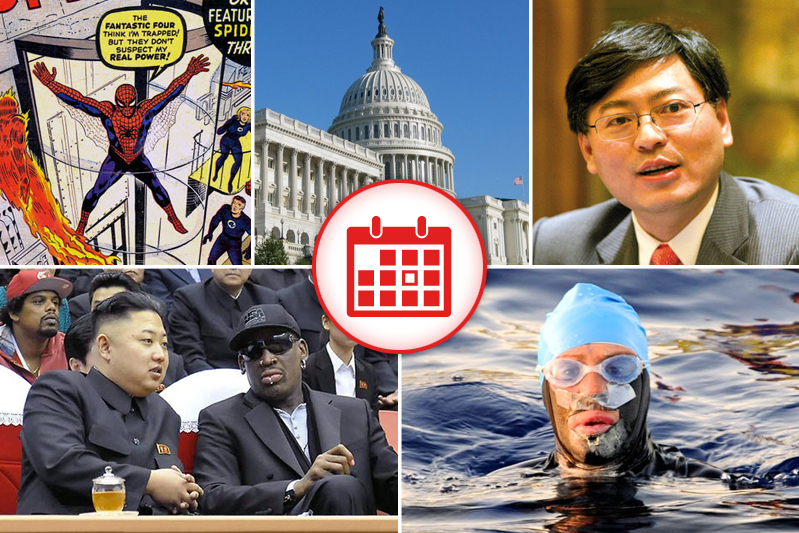 1. Dennis Rodman Is Back In North Korea To Spend Time With His BFF (Best Fascist Forever)
Dennis Rodman, the retired NBA player and vodka entrepreneur who believes he is owed a Nobel Peace Prize, arrived in Pyongyang to hang out with his good friend Kim Jong-un, the Supreme Leader of North Korea who recently had an ex-girlfriend executed by firing squad for having appeared in a porn film. Rodman said he will "try to bridge a gap with Americans and North Korea," and find some common ground for insane narcissists on both hemispheres. 
Diplomat Dennis Rodman is the Michael Jordan of Jimmy Carters.

— Rex Huppke (@RexHuppke) September 3, 2013
2. CEO Shares Annual Bonus With Employees Who Actually Made His Bonus Possible 
Yang Yuanqing, CEO of the Beijing-based company Lenovo, has decided for the second year in a row to share more than $3 million of his annual bonus with 10,000 of the technology firm's workers. The $325 extra they will receive for having not having done any more work above all the work they originally did to make the company the world's biggest producer of personal computers is approximately a month's pay, proving one again that Communism is an insidious evil that must be stopped.

3. Congress To Debate Syria Strike Instead Of Just Complaining About It
When the U.S. Congress returns from recess next week, its members will take a break from criticizing President Obama's action or inaction in Syria to actually decide whether or not to take action in the civil war-torn Middle Eastern country. Nancy Pelosi, John McCain and Lindsey Graham are all vocal supports of military intervention, while 2016 presidential hopeful Rand Paul is vehemently opposed. House Speaker John Boehner supports Obama's desire for intervention enough to make some pro-war Republicans kind of happy, but not enough to make other anti-Obama Republicans very mad.
Fuck limited military strikes against Syria. Just send in Dennis Rodman.

— Keating Thomas (@keatingthomas) September 3, 2013

4. Diana Nyad Successfully Swimming From Cuba To Florida, Deprives Discovery Channel Of New Shark Week Program
64-year-old long-distance swimmer Diana Nyad became the first person to swim the 110 mile stretch from Cuba to Florida yesterday, and she did it without having a single one of her limbs torn off and devoured by any of the thousands of sharks that swim through those waters. She arrived in Key West at about 2 pm, after 53 hours spent swimming and 0 hours spent being eaten.
I'd be more impressed if Diana Nyad hadn't waited an hour after eating, but whatever, good for her.

— Jason Mustian (@jasonmustian) September 3, 2013

5. Father Sells Rare Comic Book To Fund Daughters Wedding, Related Story: A Least One Comic Book Dork Has Apparently Had Sex Before
Richard Schaen, a 69-year-old former comic book collector, decided to sell his original copy of Amazing Spider-Man #1, that he bought for 12 cents in March 1963, for $7,900 to help pay for his daughter's wedding. He only stopped collecting comic books in 1981 after the birth of his daughter, when his hobby became too expensive and too time-consuming. His sale represents a 6,583,300% mark-up that's almost as impressive as the fact that he was actually able to conceive a child while actively collecting comic books for several decades.
No big deal, but I just used a comic book, to bookmark, another comic book. #life

— Jamie Kilstein (@jamiekilstein) September 2, 2013