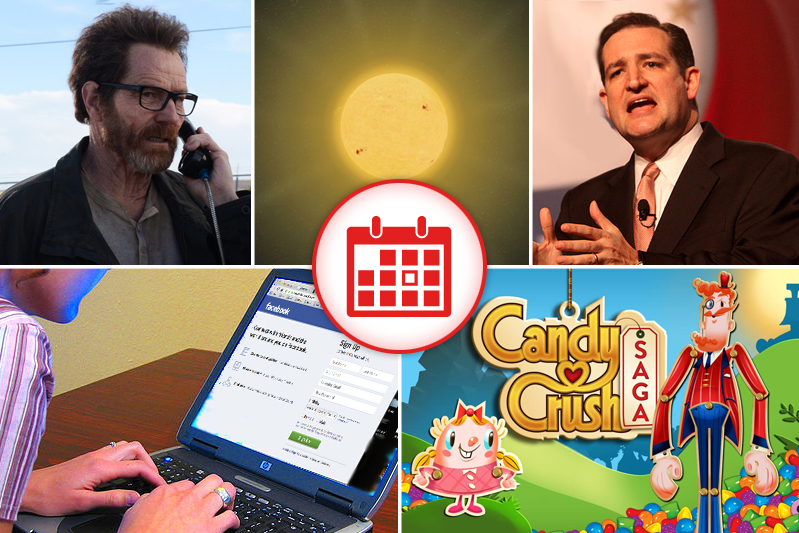 1. Breaking Bad Ends Series By Actually Providing Ending To Series
Though Breaking Bad ended its critically acclaimed six season run to pretty much unanimously glowing reviews last night, there was one aspect of the series finale that will likely confuse many modern TV viewers: series creator Vince Gilligan inexplicably chose to end the show with an actual ending that tied up all the show's loose ends and provided a sense of genuine closure. People watching at home were no doubt confused by not having to puzzle over whether all of the show's events actually took place in heaven or on some alien dimension, nor were they forced to deal with frustrated emotions when the onscreen action faded to black just prior to the series ultimate resolution.
In any event, here's a fun gif showing Walter White's transformation over the course of five seasons.

2. Ted Cruz Understands Chess About As Well As He Understands Governing
Sen. Ted Cruz — preternaturally-determined enemy of affordable health care and one of the main architects behind the government shutdown that is coming tomorrow — tweeted a picture of an incorrectly-set chess board along with the hashtag "#YourMove" on Friday, presumably as a means of illustrating that he neither understands nor cares about how any system works. He sent the taunting message to his fellow Republican Sen. Mike Lee who is also opposed to Obamacare, because why not?
.@SenMikeLee #YourMove pic.twitter.com/d9UNzKTPAK

— Senator Ted Cruz (@SenTedCruz) September 28, 2013
Now that Walter White is gone, the most destructive, selfish, narcissistic character on TV is Ted Cruz.

— Frank Conniff (@FrankConniff) September 30, 2013

3. Study: It's Much Easier To Lie About How Shitty You Are Online
A professor at the Massachusetts Institute of Technology, who is currently researching the differences in how people interact online and in real life, has found that many people today prefer to conduct important communications online because it more easily allows them to "compose" their remarks so as to seem less like the confused, scared, selfish and irrational human nightmares that they actually are.
If my Twitter persona and my Facebook persona ever started talking at a party? Boy, would I be in hot water.

— erin whitehead (@girlwithatail) May 23, 2012

4. Don't Worry, The Worst Of Global Warming's Effects Will For Our Grandchildren To Deal With
Good news, everybody who's old enough to be reading this right now! According to this cool new interactive graph that was just posted by The Guardian, we really don't have all that much to worry about with global warming. Sure, according to the graph — which uses data collected from the recent U.S. report on humanity's effect on climate change, it's gonna get hotter in our lifetimes. But only a little bit hotter, relatively speaking. It's our kids and our kids' kids who will really have to worry about global warming. Our kids' kids' kids will likely just be perambulating piles of melted goo, so they'll have a whole other set of problems to worry about.
I think global warming and extensive heat waves are a small price to pay for being greedy, obtuse, assholes.

— Jim Earl (@jimearl666) August 15, 2013

5. Candy Crush Saga Soon To Be A Thing On Which You Can Bet Your Retirement Accounts
The London-based company that created the obnoxiously-addicting Candy Crush video game is going public on the NASDAQ. So, that means soon enough you'll get to put your life savings into that and then obsessively watch its value rise and sink and rise and sink before everything inevitably falls apart when you should be doing actual work.
It's sad when people get so preoccupied with my mad Candy Crush skills that they don't get to know the real me.

— Rex Huppke (@RexHuppke) September 25, 2013