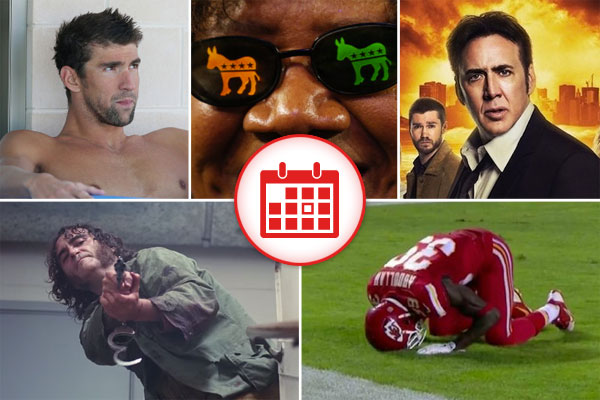 1. 18-Time Gold-Medalist Michael Phelps Is Now A 2-Time DUI Arrestee
Olympic champion Michael Phelps was arrested once again for driving while intoxicated yesterday in Baltimore, Maryland. Knowing him, he won't be content with only two of these distinctions, so we can probably expect another dozen or so.
If Michael Phelps wasn't persecuted so much for taking a bong rip maybe he wouldn't have turned to alcohol and driving drunk. #Maybe

— Doug Benson (@DougBenson) September 30, 2014

2. Reclusive Author Thomas Pynchon Might Be In The New 'Inherent Vice' Trailer, But How Would You Know?
Word on the street is that Thomas Pynchon—the camera shy author who refuses to have his image dispersed in the media—may have broken his own rule and allowed himself to be filmed by Paul Thomas Anderson's cameras for the film adaptation of his novel Inherent Vice. Furthermore, his face might actually be included in this brand new trailer for the film. If so, he's probably the guy whom you don't recognize at all.
Ever wanted more white friends? Just walk up to any you see today and say, "Inherent Vice trailer."

— Jensen Karp (@JensenClan88) September 30, 2014

3. NFL Penalizes Husain Abdullah For Praying To Non-Christian God 
Kansas City Chiefs safety Husain Abdullah received a 15-yard "unsportsmanlike conduct penalty" for taking two seconds after running an interception into the end zone to bow down and give thanks to Allah. He really only has himself to blame. Had he instead taken a knee and prayed to Tim Tebow's god of touchdowns, he'd have been in the clear.

(via SB Nation)
I'd like to thank Husain Abdullah for proving Muslims think God really cares about football as much as Christians think it.

— John Fugelsang (@JohnFugelsang) September 30, 2014

4. Nate Silver Cruelly Provides Democrats With Sliver Of Hope For Midterm Elections 
Poor, poor Democrats. Everybody knows that they're about to get their asses handed to them in the midterm elections. Even Democrats were starting to accept that sad reality. That is, until their statistician rock star Nate Silver popped up and let the world know that there is a minuscule, non-zero percent chance that the Dems might not perform quite so badly on Election Day as to lose control of the Senate. So, now they've got some hope in their hearts. And that's gonna turn to poison in about a month.
"Yes, I suppose it is somewhat about the bass, but there are several other factors to consider." - Democrats

— Sarah Thyre (@SarahThyre) September 19, 2014

5. Satan Does Not Want You To See Nicolas Cage's New Movie
Though you might not be able to tell from this secularized trailer for the upcoming Nicolas Cage movie Left Behind, it's actually based upon a best-selling, unabashedly Evangelical Christian novel, and was originally made on a significantly smaller budget in 2000 with Kirk Cameron in the main cast. Though you may not realize that, the Dark Lord Satan is well aware, which is probably why he agreed to lend this anti-blurb to the movie's promotional materials: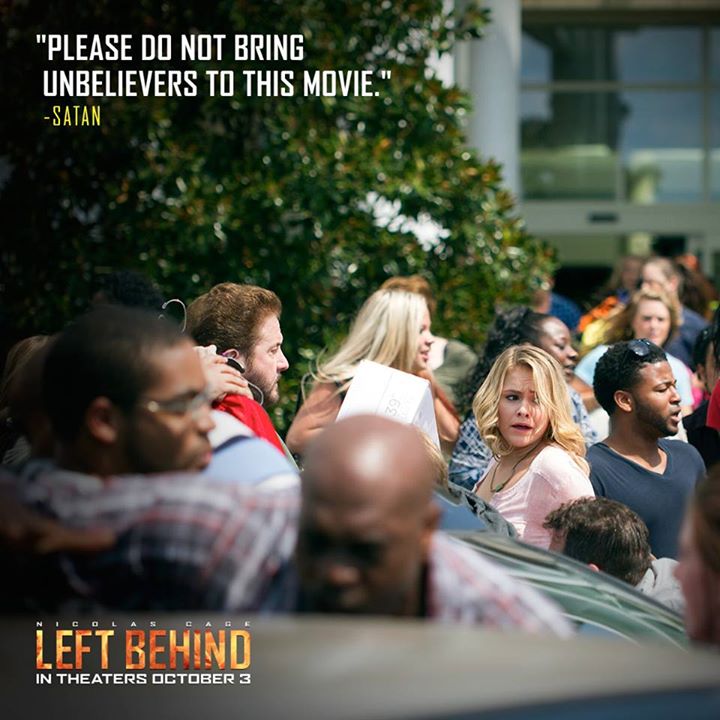 I don't like the idea that after the rapture I'll get stuck with Nicolas Cage.

— Anthony DeVito (@AnthonyDeVito) September 27, 2014

(by Dennis DiClaudio)