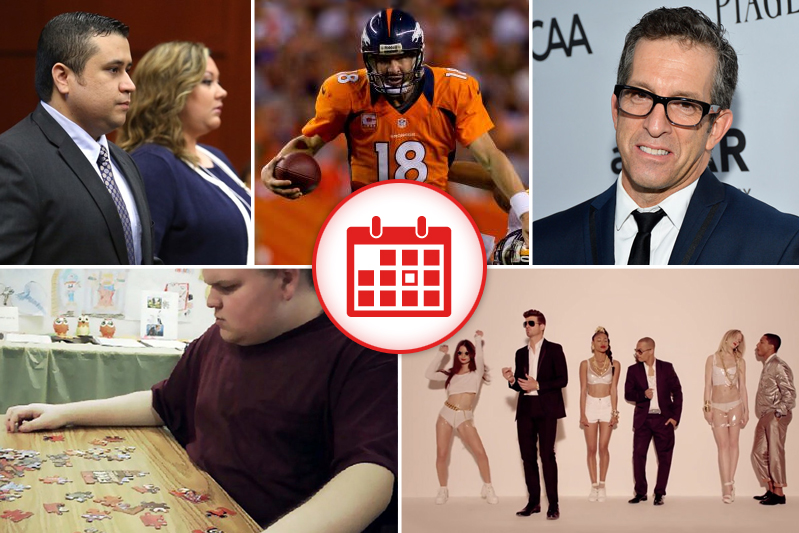 1. George Zimmerman's Wife Wants Him To Stand His Ground Somewhere Farther Away From Her From Now On, Files For Divorce
Shellie Zimmerman is filing for divorce after six years of marriage to her famous ground-standing, teen-shooting, gun-factory-visiting husband George Zimmerman. Her attorney says that the decision was made "after much soul searching and recent disappointments," and also presumably so that she can safely eat Skittles without fear of vigilante justice.
If ChristianMingle sets you up with George Zimmerman, you're going to hell.

— Warren Holstein (@WarrenHolstein) September 6, 2013

2. Ravens Get Depressingly Good View Of Peyton Manning's Record-Tying 7 TD Game
Players for the Baltimore Ravens got to see history in the making up close last night as Denver Broncos quarterback Peyton Manning threw seven touchdown passes against them for a 49-27 win, tying the NFL record for TD passes in one game which hasn't been touched since 1969. The Broncos also set a record for the most points ever scored against the Ravens, who were surprisingly unenthusiastic about getting to share in this historic moment.
3. Kenneth Cole Honors Kenneth Cole For Raising Awareness Of Kenneth Cole On Social Media
Fashion designer Kenneth Cole took to Instagram yesterday to post a video congratulating himself for successfully managing to "provoke dialogue" after having written a tweet about the Syrian "boots on the ground" discussion, in which he urged people "not [to] forget about sandals, pumps and loafers. #Footwear". In the video, he states, "I've always used my platform to provoke dialogue about important issues, including HIV/AIDS, war and homelessness." Considering the reality that those are in fact issues that people discuss, it seems clear that he has succeeded in his humanitarian effort.
.@KennethCole "Chemical weapons" or not, let's not forget about our range of fragrances.

— Peter Serafinowicz (@serafinowicz) September 5, 2013

4. Mother Offered $86K By School To Make Her Autistic Son Somebody Else's Problem
Northern California public school officials offered Heather Houston $86,000 of taxpayer money if she would kindly take her 21-year-old autistic, diabetic, mute son David Swanson and do something with him that doesn't involve dropping him off at their school for his federal government-granted right to an education. The school feels that Swanson, who does annoying things like being an autistic person and getting upset when the teacher leaves his iPad (which he uses to communicate) out in the rain, is too much of a burden. Houston has stated that she is not interested in a settlement.
My wife is pregnant. We don't know what it is yet: an autistic boy or a girl with peanut allergies.

— Adam Hammer (@AdamHammer) August 12, 2013

5. Robin Thicke's Insanely Catchy Ode To Borderline Date Rape Named Billboard's Song of the Summer
It's official! People love taking off most of their clothes and shaking their large gravity-defying breasts around while fully-dressed men leer at them to Robin Thicke's break-out hit about aggressive sexual coercion "Blurred Lines." The song, which also features T.I. and Pharrell, slipped a Rohypnol to Billboard's 2013 Songs of the Summer chart and slid into the top slot with ease. 
Is Blurred Lines playing everywhere or is my tinnitus flaring up?

— Nate Sloan (@theapiary) September 6, 2013