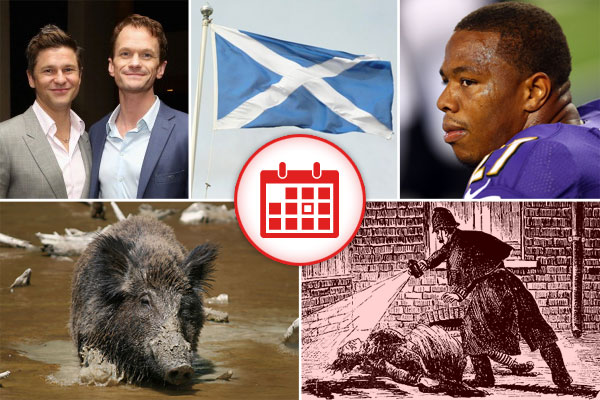 1. Ravens' Ray Rice Forced To Endure Draconian Two-Game Suspension For Simply Beating His Girlfriend About The Face A Little
The Baltimore Ravens were forced to suspend star running back Ray Rice after news surfaced that he was caught by an elevator security camera punching his then-fianceé Janay Palmer in the face. Though his absence will surely be felt by the team, players have to learn that if they're going to break the skulls of the women in their lives, they should not be doing it in a manner that could allow footage to leak online. 
Update: Ray Rice has been cut from the Ravens, with in indefinite suspension from NFL. Wow. Punishments like this are usually reserved for players who get caught smoking pot.
Roger Goodell says he never saw Ray Rice video until today - also claims he has never seen "Gangnam Style" or "David After Dentist"

— Matt Goldich (@MattGoldich) September 8, 2014

2. New DNA Evidence Conclusively Reveals Identity Of Jack The Ripper Until The New New Evidence Arrives
Researchers, using DNA-testing, have once again discovered the true identity of legendary killer Jack the Ripper. According to the newest batch of groundbreaking evidence, the killer was Aaron Kosminski, a 23-year-old Jewish-Polish immigrant. Walter Sickert was the last person who was conclusively proven to be the killer. It remains to be seen who will be conclusively proven to be the killer next.
Next on Fox News - Jack the Ripper identified! Could it be Obama? Yes, it could. We'll tell you why you should be scared and buy guns.

— Rex Huppke (@RexHuppke) September 8, 2014

3. Neil Patrick Harris Thoughtlessly Forgets To Invite Paparazzi To His Secret Wedding
Neil Patrick Harris was married to his longtime partner David Burtka over the weekend. Unfortunately, the only images we have of the event come from Harris himself, as it seems the 41-year-old actor and singer forgot to let the entertainment press know about the ceremony.
Guess what? @DavidBurtka and I got married over the weekend. In Italy. Yup, we put the 'n' and 'd' in 'husband'. pic.twitter.com/R09ibF41rt

— Neil Patrick Harris (@ActuallyNPH) September 8, 2014

4. Russia Is Invading Germany With Its Radioactive Boars
Apparently unsatisfied with occupying Crimea with its soldiers, Russia has been allowing its wild boars—irradiated from the former nuclear power facility Chernobyl—to filter into Germany. One-third of all boars currently wandering around the Saxony region of eastern Germany are exhibiting dangerously high radioactivity levels.
Why aren't Russia and the Ukraine winning every Olympic gold? I'd expect a lot of 28-year-old mutants to come out of the Chernobyl disaster.

— Keating Thomas (@keatingthomas) February 11, 2014

5. Slight Majority Wants Scotland To Be Its Own Shitty Country
According to the newest poll numbers, 51 percent of the Scottish residents of the United Kingdom are planning to vote for independence in an upcoming election on September 18. There is currently huge momentum behind this effort to change Scotland into one of the worst countries in Europe instead of just one of the worst regions of the U.K.  
In my opinion Scotland should be independent, otherwise Mel Gibson died for nothing

— Brian Gaar (@briangaar) September 8, 2014

(by Dennis DiClaudio)