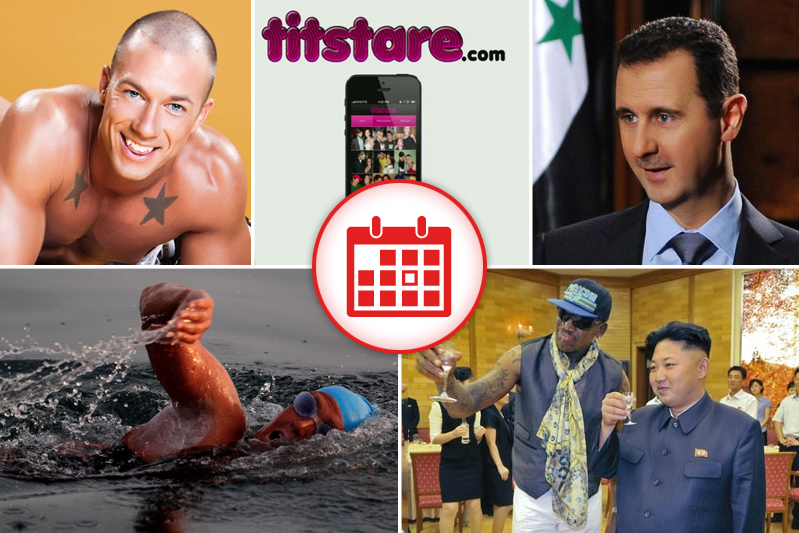 1. Porn Industry Faces Indefinite Shutdown After Third Actor Tests Positive For HIV, Fans Forced To Make Due With The Millions Of Hours Previously Filmed
The porn industry will likely shut down for the second time in a month after the third case of HIV infection was reported. All filming stopped for one week last month to allow actors to get screened after Rod Daily and Cameron Bay tested positive. It is unknown how long this newest moratorium, in response to an unnamed actor, will last, but it should give porn screenwriters a chance to really polish up their dialogue and character motivations.
California's rim fire is different than the porn moratorium, right?

— Carol Kolb (@carolkolb) August 27, 2013

2. In Charlie Rose Interview, Assad Comes Just Short Of Denying That Chemical Weapons Are Even A Thing That Exists
While a new poll shows the U.S. public in strong opposition to intervention in Syria, Bashad al-Assad showed similar opposition in an interview Charlie Rose, during which the leader denied having ordered a chemical weapon attack on his people, denied that a chemical weapon attack occurred at all, and probably would have denied knowledge of what the words "chemical," "weapon" and "attack" even meant if he thought he could get away with it.
Why was CBS so selective in quoting Assad? Congress and the American people deserve to know what he thinks of Miley Cyrus.

— Baratunde (@baratunde) September 8, 2013

3. Diana Nyad's Record-Breaking 110-Swim Through Shark Infested Waters Raises Questions Other Than "Why?!"
Some skeptics are saying that Diana Nyad may have had help during her 110-swim from Cuba to Florida without a shark cage, citing a spike in her swimming speed about 27 hours into her 53-hour trip. And also, let's faces it, she probably should have been eaten by at least one shark, right?
I could never do what Diana Nyad did. I don't even shower without a shark cage.

— mtobey (@mtobey) September 4, 2013

4. Dennis Rodman Reveals Name Of "Awesome Guy" Kim-Jong-un's Secret Baby
Former NBA player Dennis Rodman — who seems to have some sort of unhealthy fixation on his "friend for life" "awesome guy" Kim Jong-un — announced the name of the North Korean leader's secret baby as "Ju-ae" over the weekend. The announcement, for some reason, failed to generate the same level of excitement as news of Kate and William's kid's name.
Dennis Rodman revealed Kim Jong-un's newborn daughter's name. It's "Ju Ae," which in Korean means, "botched sex-selective infanticide."

— Keating Thomas (@keatingthomas) September 9, 2013

5. Tech Crunch Apologizes For Indecent Apps That Everyone's Going To Try To Download Right After Reading This
Technology blog Tech Crunch apologized to everybody who was offended by two of the apps generated during its marathon hack session over the weekend. The offending apps Titstare, which features pictures of men look at women's breasts, and Circle Shake, a game which simulates masturbation, are not available in the Apple app store. We already looked.
thinking my new app "cockpunch" might be pretty popular

— Atrios (@Atrios) September 8, 2013