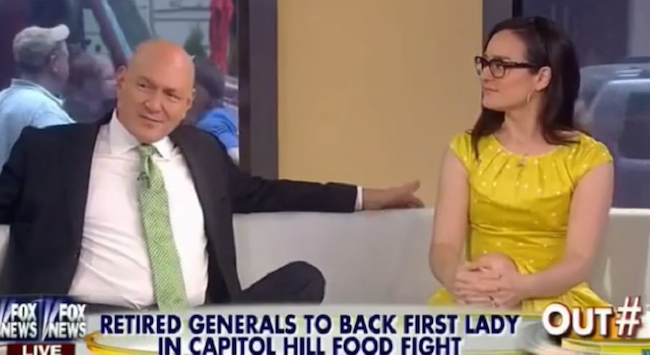 Physician, shut up thyself.
It's turning out to be a real banner day for Fox News. Just a few hours after host Shep Smith paid tribute to Robin Williams by calling him a coward, Keith Ablow, a psychiatrist and member of Fox News' "Medical A-Team," made the case that Michelle Obama isn't a credible voice when it comes to school nutrition because she "needs to drop a few" pounds.
The panelists on Outnumbered were discussing a Kentucky school district's decision to opt out of federal funding for school lunches because kids aren't happy with the food. That's when Ablow, with his gut hanging over his belt and his legs splayed out in order to let his massive balls breathe, decided to drop a fat zinger aimed at FLOTUS as if he were at the offices of BroBible pitching a piece about "America's most bang-able First Ladies."
It was all going so well, too. Everyone was in agreement that the First Lady was a bummer, and that when it comes nutrition, who better to decide what's right than children in Kentucky? He probably felt like he was in a safe space, but it was clear that he crossed a line when the panelists reacted like he'd just called Reagan a pussy for dying his hair.
KENNEDY: We don't need the federal government applying -- projecting -- these standards upon us. And Michelle Obama is so, like, the duchess when she speaks.

KIMBERLY GUILFOYLE: She's kind of annoying that way.

KENNEDY: She is.

ABLOW: And how well could she be eating? She needs to drop a few.

[A COLLECTIVE "OOH" FROM THE PANEL. CROSSTALK. HOME AUDIENCE MEMBERS JUMPING ON THEIR COUCHES WITH DELIGHT WHILE SCREAMING ABOUT MEXICANS, GUNS, AND BENGHAZI ]

ABLOW: I'm telling you, let's be honest --

HARRIS FAULKNER: You did not say that --
The clip started making the rounds pretty quickly, so Ablow is probably busy crafting his apology while simultaneously fielding calls from Fox executives about creating his own show for the channel called Tough Medicine with Doctor A.
In between bites of his dinner from a Chinese buffet and patting himself on the back for his article about how he could've saved Robin Williams.
(by Jonathan Corbett)