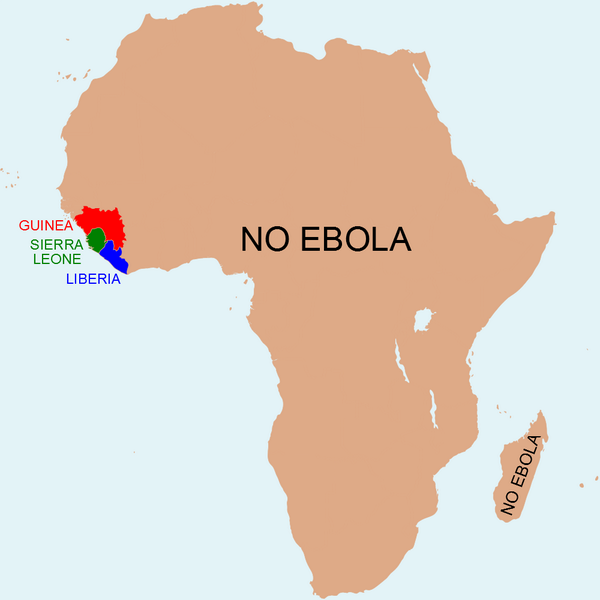 Your eyes are already glazed over, aren't they? Dammit. (via Anthony England)
If you live in a part of America that's currently freaking out about Ebola, i.e. all of America, you might be tempted to, say, make a local teacher resign because she went on a trip to Kenya. This, and let's just be honest here, would make you an idiot. 
Why? Because Kenya is more than an America-length away from any active Ebola cases. The nation of Rwanda is a whopping 2,600 miles away, which was close enough for school officials to force two transfer students from that country to be quarantined after they moved to New Jersey. That's the kind of nonsense that led Anthony England, a chemist with a Ph.D. from MIT who has done a lot of work in Africa and long been frustrated by the West's ignorance of the continent, to make this map and post it on Twitter, where it was widely shared.
#Ebola Map of Africa for the Geographically Challenged Inspired by @JuryReporter: https://t.co/P7UwqPx3Bw pic.twitter.com/MldqcqpMU6

— Anthony England (@EbolaPhone) November 3, 2014
Since then, the map was picked up by the Washington Post, and it reminded them of another important Africa map from a few years ago, published by map-maker Kai Krause. It illustrates the basic reason why Americans and others keep failing at understanding the continent: they have no clue how huge it is. To be fair, this is partly the fault of our Mercator Projection maps, which shrinks the equatorial regions and enlarges the areas closer to the poles (and, as luck would have it, most rich countries are relatively far to the North), so that Africa looks like it's the same size as Greenland. This is not true. It can eat a whole bunch of Americas: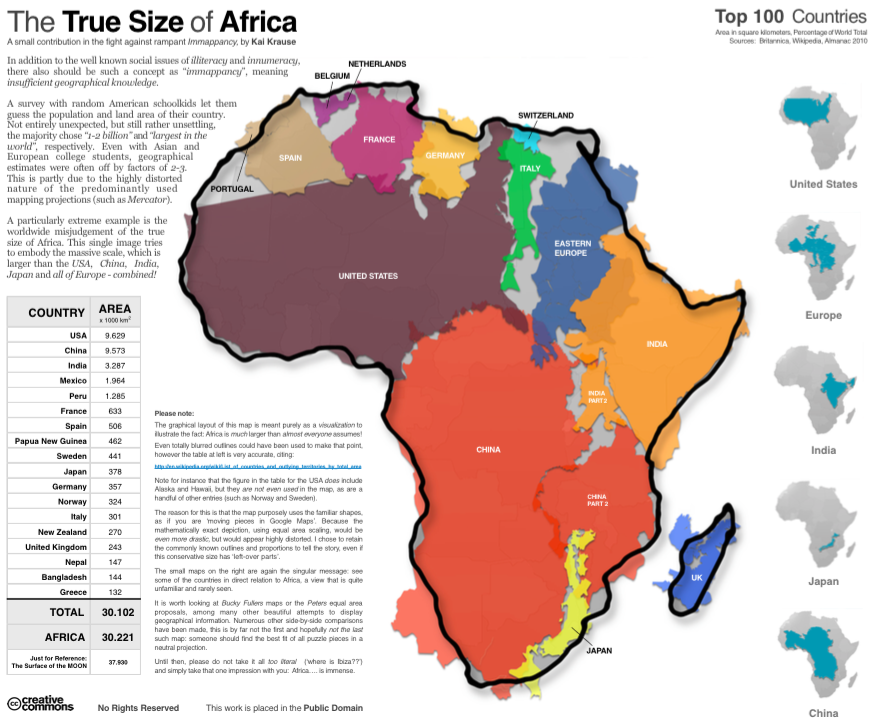 Long story short, Africa is big and everywhere else is really small. (via Kai Krause)
What do you say, America? Can we get this straight? No? No chance whatsoever? Oh. Ok. Well let's just all use our excellent educations and go vote, then.
(by Johnny McNulty)
p.s. thanks to reader @pullrich for pointing out that the Mercator Projection shrinks regions near the Equator, not the Southern Hemisphere in general.