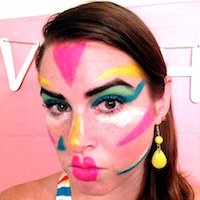 Filed by Ashley Bez

|

Jun 27, 2015 @ 12:25pm
An activist pulled a 'Mission Impossible' worthy pole-scaling maneuver to take down the flag haunting our maybe-great nation.
Breaking: Activists in South Carolina are now taking down the confederate flag at state Capitol. pic.twitter.com/bDsZPbzD87
— Ferguson Action (@fergusonaction) June 27, 2015
As the sun rose this morning in Columbia, SC, Bree Newsome used a harness to climb up the 30-foot flagpole at the state's Capitol building. She was quickly joined by cops who yelled at her to get down as she carried out her mission to remove the Confederate flag.

Bree unattached the flag, and as she descended the pole she said to the cops, "You cannot get to me with hatred and oppression and violence... I come to do this in the name of God. This flag comes down today."