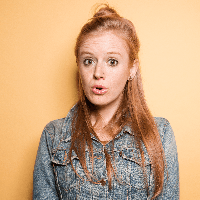 Filed by may wilkerson

|

May 22, 2017 @ 3:20pm
Another racist tirade has gone viral and we are not even surprised, just disappointed, America. Today's internet-famous bigot we know only as "Mike," a white guy in a wheelchair who went off on a fellow traveler at the airport who committed the unthinkable act of talking to his mom in Spanish.
The subject of the attack was Hector Torres, a 44-year-old father-of-four from Orlando, pictured here with his mom, who is Puerto Rican and lives in Florida:
Torres was waiting to board a flight to Los Angeles at the Reno-Tahoe Airport in Nevada last Thursday while speaking on the phone in Spanish with his mom, he told Buzzfeed. Then he heard someone behind him say, "Can you believe this shit?"
"I'm chatting away with my mom, quietly, not trying to have all kinds of volume at the airport," said Torres. "And I'm like, I hope it wasn't directed at me."
Unfortunately, it was.
Torres said that Mike, who was in a wheelchair, started hurling racist insults at Torres and telling him to "learn how to fucking speak English." And, of course, the president's name came up. According to Torres, the man said: "Trump is going to fix this. He doesn't understand this is Trump's America now."
Torres, who speaks English as well as Spanish, got off the phone with his mom so he could film the guy's continuing verbal assault. He told Buzzfeed he believed the guy was a veteran, so instead of getting angry, he tried to reason with him and explained that he has relatives who also served in the military.
"So my family that's all military, fought just like you did, lost limbs," Torres says in the video, with heroic levels of compassion. "I feel really sad for you."
"Mike" shows no remorse and continues to spew hate, while simultaneously chewing and drinking a soda. The American way.
You can watch the infuriating video here:
According to Buzzfeed, security showed up shortly after the video was filmed and Torres showed them the video, including the part where the guy tries to hit him with his crutches.
The officers offered to arrest the man, but Torres decided not to press charges. "Mike" and his wife were reportedly booked on the same flight as Torres, but ultimately "chose not to fly," according to airport officials. Maybe they realized, if you hate people who are different from you, traveling is a bad idea.
Hats off to Hector Torres. Not only did he handle this situation with more compassion, patience and grace than most of us would have, but he was talking on the phone with his mom. And it wasn't even Mother's Day.
Someone give this guy a medal. Or at least some frequent flyer points.