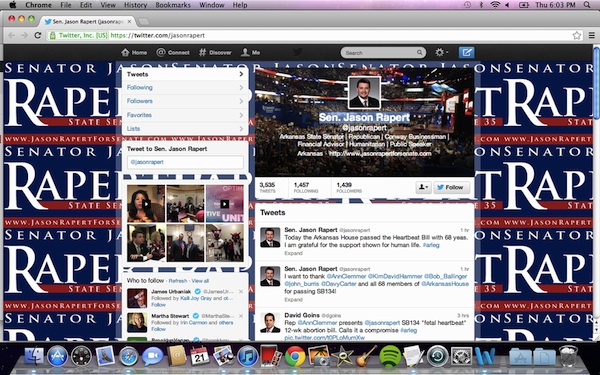 No no, not "Rah-pert." it's pronounced "Rapetrap."
If we were Arkansas State Senator Jason Rapert, we'd probably try to downplay the fact that our last name contains the word "rape." We'd maybe choose some slogan like "Working For Arkansas Families" or "Putting the People of Arkansas First" instead of "Senator Rape Trap." Perhaps he thinks the words "rape trap" splashed across his Twitter feed inspire confidence that he will trap all the rapes and stop them from happening to his constituents. But our mother taught us never to get in an unmarked van with a stranger or follow anyone straight-up advertising the fact that he will rape you on Twitter.
Update: he changed it!