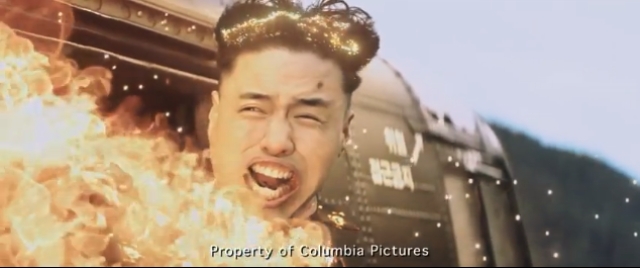 Kim Jong Un, shown here in the most positive light .

The people who hacked Sony Pictures Entertainment may not actually be North Korean (it appears, for now, as if they're merely massively deluded a-holes sympathetic to the hermit regime), but it's become increasingly clear that the sole motivation for their attack was the upcoming Seth Rogen and James Franco film The Interview. The movie, a buddy film where two movie stars are enlisted by the CIA to kill the North Korean dictator, culminates in the glorious explosion of Kim Jong-Un's head.
Since the leaks started, however, the fallout has mostly been a major business disaster for Sony, an ethical problem for journalists (they seem to have gotten over it), an embarrassment for certain celebrities and Sony employees, and an amusement for readers.

Unrelated: is this place based on the pyramid from Blade Runner, or the other way around?
According to Variety, however, a new statement from the hackers (possibly called Guardians of the Peace) might change that with a promise to enact real-world violence on anyone who goes to see The Interview on Christmas Day. I hope no one ever tells them about Team America.
Let's take a look at what these sad individuals have threatened:
We will clearly show it to you at the very time and places "The Interview" be shown, including the premiere, how bitter fate those who seek fun in terror should be doomed to.
Soon all the world will see what an awful movie Sony Pictures Entertainment has made.
The world will be full of fear.
Remember the 11th of September 2001.
We recommend you to keep yourself distant from the places at that time.
(If your house is nearby, you'd better leave.)
Whatever comes in the coming days is called by the greed of Sony Pictures Entertainment.
All the world will denounce the SONY.
This is a stupid letter. It's a bad letter. EVERY SINGLE PART OF THIS LETTER SUCKS.
If I was a Terrorism Lit 101 teacher and I had to grade this, I would give it an "F." I mean, "All the world will denounce the SONY"? Do you think the company is all-caps because that's how it's printed on your TV set? Do you really think it's the SONY? Do you speak the English?
Also, ALSO, the premiere already happened last week in LA, numbnuts! Yes, there is still a NYC premiere happening on Thursday (which has been scaled back a little bit), but if you think New Yorkers are gonna cancel a party because of you, you are (I hope) sadly mistaken.
"Remember the 11th of September 2001"? A.) Adding 2001 was redundant, but if you are going to do that, there should have been a comma after September. B.) Telling people to "remember" 9/11 is also redundant. If we want someone to tell people who don't need telling to "remember" 9/11, we'll talk to any politician, thanks. C.) Kinda weird to come so close to referencing "Remember, remember the 5th of November" without going all the way. That sentence is just unsatisfying.
Finally, you pro-Kim piss-ants: "Soon all the world will see what an awful movie Sony Pictures Entertainment has made"? That happens pretty much every single Friday, all year round. That literally describes most of the movies Sony puts out (and every other studio). We didn't need you to tell us that Sony makes bad movies. Sony does that. By making movies.
So, in conclusion, you've written a threat no one will listen to because they will either not believe you or refuse to listen out of spite. To make matters worse, it's a terribly written, barely sentient, immature piece of illiterate garbage. Plus, now law enforcement is going to quadruple the amount of resources they have devoted to finding you. Before, we were all wondering whether it was OK to enjoy the stuff you leaked. Seriously, no one took you seriously. Now we're all going to see The Interview (which better be fucking good, but you won't hear me say it if it's not) just to piss you off.
TL;DR - International criminals should stick to leaks; making threats of a new 9/11 is just going to piss us all off.