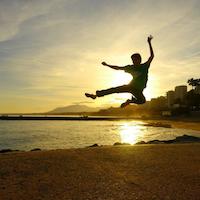 Filed by Mitchell Friedman

|

Oct 19, 2016 @ 10:16am
Early Wednesday morning, the British Army sent out the following Tweet and guess what? People weren't too happy about thoughtless blackface imagery greeting them first thing in the morning.
Although the British Army didn't see the problem when they sent the message, Twitter did. Immediately.
The photo was deleted within an hour.
Camouflage paint does not equal blackface. But the message about having a "sense of humour," paired with the image, certainly didn't give the organization any benefit of the doubt.
.@BritishArmy
Blackface as camouflage = ok.
Blackface as humour = not ok.
Explain your robust sense of humour?

— Wee Red Bird (@WeeRedBird) October 19, 2016
Responding to the outrage, the British Army quickly apologized.
Here's the footage from Belize the Army wants you to see before making any further judgments:
It's still unclear what "humour" the army did see in the photo, but as always, it's important to leave comedy to the professionals when you're dealing with a sensitive topic.
As we all know, comedians are immune to this type of misstep (they're not).