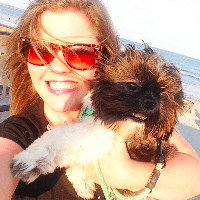 Filed by Missy Baker

|

Nov 03, 2015 @ 4:50pm
When you think of a millionaire who's really into her cats, singer and Machiavellian squadlord Taylor Swift comes to mind, of course, but T-swift needs to bow down to the original cat lady, Kate Birdsall Johnson. In pre-Instagram 1891, Mrs. Johnson commissioned this oil painting of 42 of her feline friends, which was auctioned off today for $826,000.00 at Sotheby's New York.
The painting, called 'My Wife's Lovers,' was created by artist Carl Kahler and titled by Mrs. Johnson's husband. (Yes, she had a husband.) Kahler spent 3 years completing this impressive work of art, 2.5 years of which probably involved perfecting a technique to hypnotize and/or sedate cats into sitting still. How long do you think it took the "hang in there" poster guy?