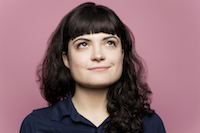 Filed by Jaime Lutz

|

Feb 24, 2016 @ 9:41am
21-year-old British student Kate Ovens is a competitive eater, but even knowing that won't prepare you for the site of this skinny blonde girl demolishing a nearly two pound burger (plus a strawberry milkshake and fries!) in an under four minute video.
Ovens' goal was to eat this burger in 25 minutes, but she's easily able to pull it off in ten. So watch this video, and then look within. Are you impressed? Disgusted? Aroused? Frightened? Really consider that reaction. Journal about it. Live with it. This is you.