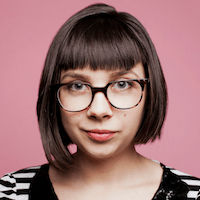 Filed by April Lavalle

|

Oct 14, 2016 @ 10:37am
This is Homa Bash, a newscaster for local Texas news station NBC5.
A post shared by Homa Bash (@homabash) on
Bash and her camera man C.J. Johnson were covering a news story near a school on Wednesday when someone called the cops saying they saw a "Hispanic-looking woman and black man with a suspicious white truck & camera." For the record, Homa is not Hispanic, she is Indian.
It is unclear if the person called the cops because they were freaked out by a truck full of TV equipment or seeing two people of color, but you can argue about that in the comments section of this post.
A post shared by Homa Bash (@homabash) on
Homa's story prompted other people come forth and talk about other instances of racial discrimination where the cops were called for no reason.
@HomaBashNBC5 Had the same thing happen to me once in New York. So whenever I knock on doors I always have my station micro phone out

— Michael Baldwin (@baldwinreports) October 12, 2016
Bash later updated her Twitter followers on the situation with this post. According to BuzzFeed News, the cop on the scene in quickly dismissed the call once she realized that these two people were literally just doing their jobs.
Casual racism. More at 11.