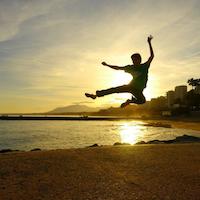 Filed by Mitchell Friedman

|

Apr 06, 2017 @ 8:40am
Irish comedian Dara Ó Briain checked his Twitter mentions one day and found, to his great surprise, that he had just died in Ireland in a horrific car accident.
It was early April, but the news story wasn't just a hilarious, "someone you love died" prank. Don't you love those? It was hilarious, "someone you love died" fake news! A scam site called "Mega News 360" wanted to profit off Briain's death, whether he died or not.
Here's some real news: Dara Ó Briain couldn't have died in Ireland, since he was performing in Australia at the time. And in order to be dead in Ireland, you'd have to be both in Ireland, and dead.
I could try and write something self-deprecating and "ah shucks", but screw it: I'm doing my show here for the next two nights. So giddy. pic.twitter.com/z1JSPMat7C

— Dara Ó Briain (@daraobriain) April 2, 2017
Neither of those things were true for Briain, who offered a few hot takes on his own death.
Apparently I'm dead. Huge if true. Another victim of those ravines in the middle of Dublin City. We must fill them in before others die too! https://t.co/5O2dWVealF

— Dara Ó Briain (@daraobriain) April 5, 2017
When commenters asked if he was dead, Briain still wasn't sure.
All he knows is he won't be pulling a Tom Sawyer, because he didn't really like the deceased that much.
@pjgallagher not sure I can make, but I wasn't close to him, so I might not be missed.

— Dara Ó Briain (@daraobriain) April 5, 2017
Even if he was pretty flattered when the article offered their condolences to "the entire Irish community."
It's nice to see what the world really thinks of you while you're still alive, even if it's all one hundred percent made up nonsense.