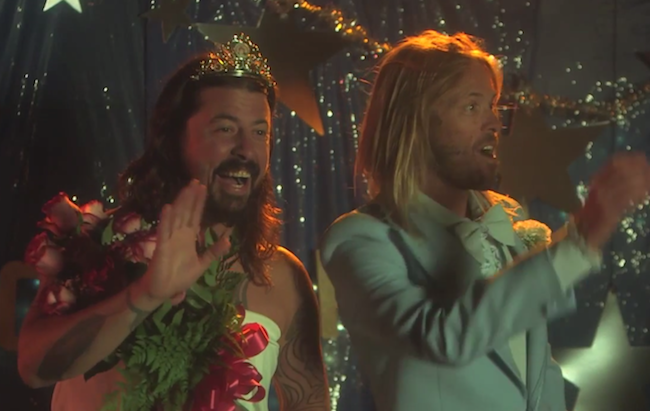 Foo fighting for the cure.
Dave Grohl calling out Jack Black during the intro to his Ice Bucket Challenge video makes perfect sense. They're good friends and both rock. It's when he challenges John Travolta and Stephen King that you begin to wonder what the connection is. But it all starts to make sense when he puts on the tiara and the creepy strings begin playing and we realize that bandmate Taylor Hawkins is playing Prom King Tommy Ross to Grohl's Carrie in the ice water remake of the classic 70s horror flick.
Anyone familiar with the movie (or anyone who's even glanced at the Internet over the last couple of days) knows what's coming next. It's a great mashup and one of the more original takes on what has quickly become the biggest online sensation since cat videos.
We've seen some great Ice Bucket Challenge videos, as well as a lot of horrible ones. And every day there's at least one celebrity video that that is supposed to put an end to anyone else even trying because "this one can't be topped!" Mark Zuckerberg called out Bill Gates, and Oprah called out Steven Spielberg, which makes you wonder how the ALS Association hasn't hit the billion dollar mark already. 
It also makes you wonder where this will all end. Obviously, the hope is that it ends with a cure for ALS. In the meantime, thanks to Dave Grohl's mini-masterpiece, we'll likely be seeing a lot of pretty creative videos.
(by Jonathan Corbett)