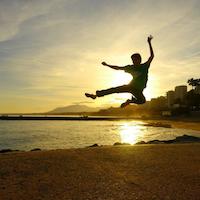 Filed by Mitchell Friedman

|

Jan 26, 2016 @ 10:10am
A photo taken by Dmitry Vasyanovich off Guadalupe Island in Mexico shows three divers risking everything—well, specifically a hand—to find out what it's like to touch the snout of a great white shark. "Of course we knew that this fish is quite dangerous, but everything was organized perfectly so we actually felt safe," said the madman.
PICTURE OF THE DAY: Diver in Mexico decides to pat a Great White on the nose! Fortunately, the shark took the bait, not his hand! (Credit: Caters News Agency)

Posted by World News Now on Monday, January 25, 2016
The Guadalupe Great White Sharks website espouses "natural interaction and… the absolute minimum amount of chum" to facilitate encounters between divers and wildlife. Of course, leaning out of the cage with a hand or torso is prohibited. But if you want to go viral, you've got to break some rules.