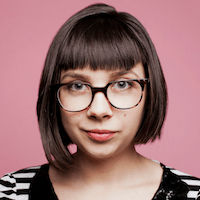 Filed by April Lavalle

|

Mar 28, 2017 @ 9:08am
This t-shirt that's for sale in the Trump Tower gift shop in New York City makes absolutely no sense.
Politico's chief Washington correspondent Edward-Isaac Dovere tweeted the picture of the t-shirt, which reads "shut the fake up media."
Wait. Is the shirt meant to say, "Shut up the fake media" or perhaps "Shut the fake media up"? Is it meant to be some kind of word play on "Shut the f*** up, media"? In that case, the shirt is missing a comma. No matter what the intention was for this t-shirt, something definitely got lost in translation.
Of course, Twitter had a few thoughts (and a few jokes) on the matter:
@ericgeller it's like one of those 3-D posters - you have to not focus to see it

— Edward-Isaac Dovere (@IsaacDovere) March 27, 2017
@radseed Hey now! There's a Sean Spicer vest that clearly explains what the shirt meant to say.

— William Beans (@Will_GTM) March 28, 2017
Hey, Donald Trump hardly makes sense when he speaks, so why should his merchandise be any different?