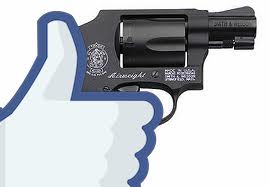 Five of your friends don't like this!
Having a million private security officers isn't cool. You know what's cool? Paying for your own genuine police officer.
That's what Facebook is doing. The social media giant is famous for being the first of its kind to accomplish a number of things; being the subject of an Oscar winning movie, winning a GLAAD award, even the first to grab the attention of my father for all of four minutes, which is actually quite an achievement. In an equally pioneering move, it was announced today that Facebook will be the first private company in the United States to fund a full-time police officer, an arrangement which has a number of people concerned, and others saying it could be a model for the future.
On Tuesday the Menlo Park city council approved a measure allowing Facebook to pay 200K for what they're calling a "community safety police officer" for three years. To a lot of people, that translates to "Facebook Cop," which sounds like another, not nearly as good movie about Facebook.
The officer will be conveniently stationed a few hundred yards away from the company's new headquarters, which will be inconveniently located near Belle Haven, a lower income, aka "urban," aka "bad" neighborhood. Supporters point out that having another cop on the beat will benefit everyone, while others worry that Facebook Cop's main gig will be looking out for the company buttering his bread.
Naturally, the city council says that Facebook and its employees will be getting no special treatment from the new officer. And considering that the company has the resources to hire its own militia in the form of "private security," and already owns a number of politicians, it's hard to argue that having an additional cop on the beat at no cost to tax payers is a bad thing.
That is, until you're arrested by Facebook Cop and find yourself standing in front of Facebook Judge looking at Facebook Jail time.
(by Jonathan Corbett)