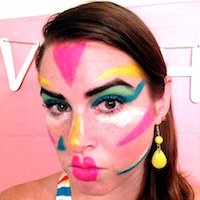 Filed by Ashley Bez

|

Sep 22, 2015 @ 5:45pm
Helena Egelston and her step-daughter tried to get into the Taylor Swift concert in Kansas City last night, but unfortunately their StubHub-bought tickets were fake. She got the tickets for $200 a piece from a man named Eric, and she even managed to take video footage of the asshat scam artist. Let's take a look at the blurry criminal making money off unsuspecting Swift fans:
This jerk apparently did the same thing to a bunch of people, because the box office told Helena that over 20 people tried to get in with the same tickets. A tearful Helena was then surprised by a kind stranger who offered to buy them tickets. Taylor herself could probably write a song about this roller coaster pre-concert experience. Their day went from Bad Blood to Shake It Off real quick.