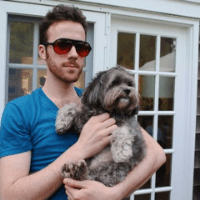 Filed by Miles Klee

|

Oct 29, 2016 @ 1:35pm
Of all the problems that come with buying a used car, "accidentally becoming the owner of a large snake" doesn't typically merit a ranking. But maybe it should?
At any rate, one U.K. family will never again dismiss the possibility after realizing that the Nissan Navara they bought was home to a slithery 5-foot reptile. The BBC reports that they were driving home on the M5 in Worcestershire when they noticed their dog becoming distressed—because the snake had wrapped itself around his leg. Other reports stated that the couple's child had also alerted them to the stowaway. They quickly pulled the car over and waited for help.
The Central Motorway Police Group, though, were just as baffled.
1...And most bizarre job for a long time.Officers attended a breakdown on the M5 in Worcs..but it wasn't a breakdown. occupants had found..

— CMPG (@CMPG) October 27, 2016
2... a SNAKE!!...Aaaargh.. we were as surprised as the family (and pet dog!!)

— CMPG (@CMPG) October 27, 2016
.. I suppose, "mummy, there's a snake in the car" is a bit more exciting than 'are we there yet?"..

— CMPG (@CMPG) October 27, 2016
Reptile experts identified the suspect as a harmless corn snake, and so, although it had disappeared back into the structure of the car, the family made the rest of their way home knowing they had nothing to fear but another scaly surprise.
Final update on the snake.The couple who found the snake in their car (and dog) are happy to continue their journey as the snake is ....

— CMPG (@CMPG) October 27, 2016
..confirmed as not being dangerous.Appears it has disappeared into the cars structure and will need to be taken apart to get it out.

— CMPG (@CMPG) October 27, 2016
As the story went viral, the Nissan's previous owner, Fiona Wellington of Sheffield, came forward to say that the snake was likely her pet, named Keith, who had gone missing before she'd sold the car. We of course hope for their swift reunion, but it also seems as if Keith has taken a fancy to his new mobile home.