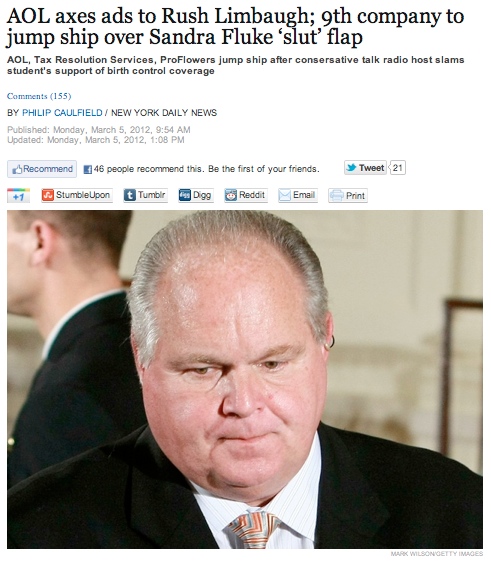 5. Rush Limbaugh - The waddle of shame continues for the controversial radio host/over-filled human colostomy bag, who is still hemorrhaging sponsors after his three-day verbal assault on Georgetown law student Sandra Fluke. Maybe he should add "Don't call women sluts" to his daily talking points, right below "blame Obama for this somehow" and "find something positive to say about Mitt Romney."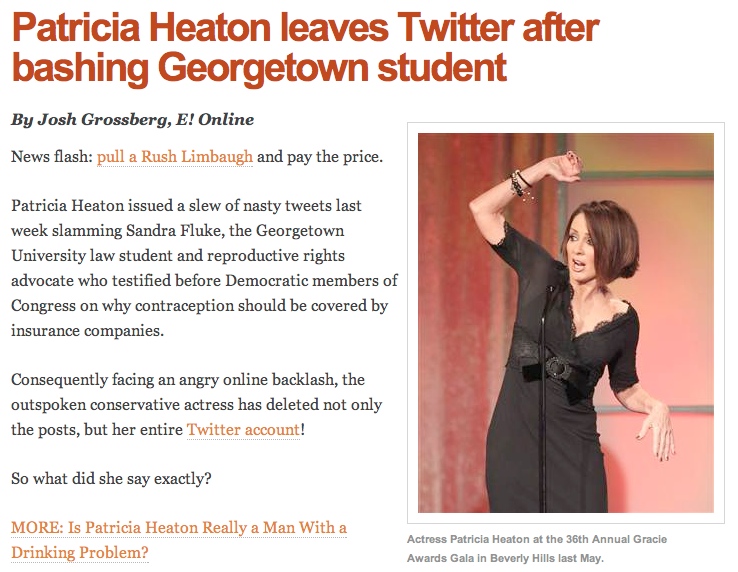 4. Patricia Heaton - Learning absolutely nothing from Limbaugh's fate, former Everybody Loves Raymond actress Patricia Heaton attempted her own string of "jokes" at Sandra Fluke's expense on Twitter — and fled the site in defeat after the inevitable crushing backlash that followed. We'd say she should stick to her day job, but she's not funny there either.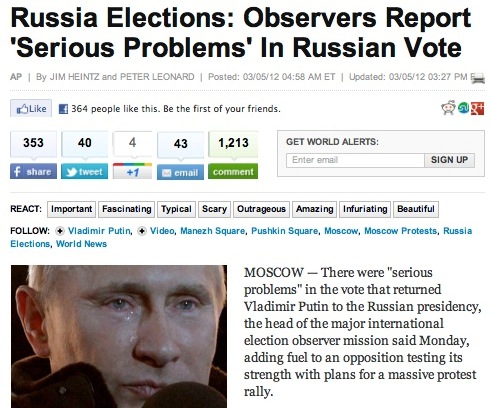 3. Russians - The country is crying shenanigans (or whatever the Russian equivalent of "shenanigans" is) after incumbent president and all-around-not-very-popular-person Vladimir Putin somehow managed to pull off a commanding victory in the Sunday election. And by "somehow managed to pull off," we mean "obviously rigged like crazy." This man has no shame. Or more acurately, this man has one tear's worth of shame.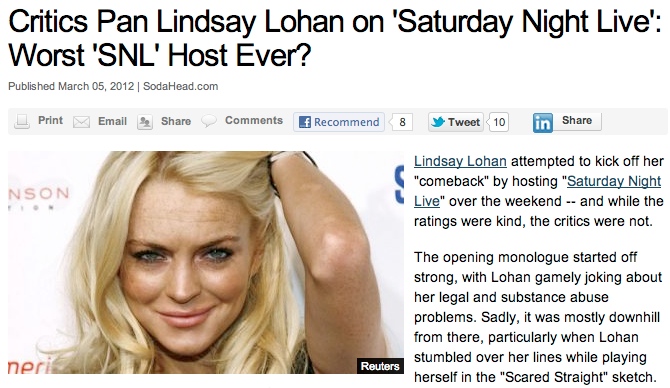 2. Lindsay Lohan - Be careful what you beg for. After pleading with Lorne Michaels for a chance to host SNL, the troubled star actress person seemed to forget the part about actually hosting. She flubbed her lines, read awkwardly from the cue cards, and pretty much gave every sketch the stilted, uncomfortable vibe of a Ricky Gervais sitcom. Saddest of all, Jon Hamm kept popping up all-too-briefly to remind us how much we'd rather be watching him host instead.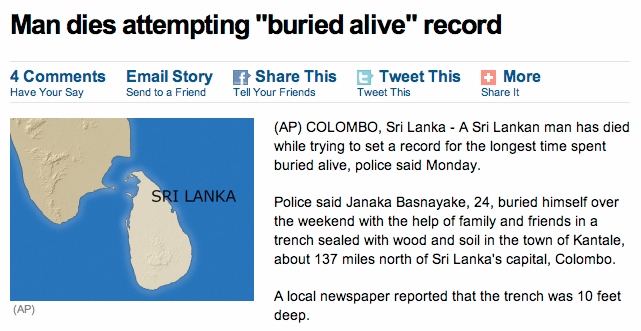 1. This guy - Janaka Basnayake died after burying himself alive, which is a pretty amusing irony if you're not the one suffocating inside of a dirty coffin. His family must have been distraught when they dug him up, but also kind of annoyed that they had to bury him again. Now he'll never become "The Sri Lankan David Blaine." So at least there's that.