It's been two weeks since the Fyre Festival dumped rich kids who expected luxury yachts and supermodels onto an island with FEMA tents and cheese sandwiches. Since then, it has had the most disastrous fallout for an island getaway since Jonestown.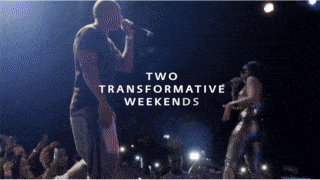 Rolling Stone reports that the festival's co-founders, Jeffrey "Ja Rule" Atkins and Billy McFarland, have been hit with their sixth (SIXTH!!!) class-action lawsuit.
Fyre Festival survivors Kenneth and Emily Reel have brought forth a class-action case in a Florida court, and are seeking $5 million in damages from Ja Rule, McFarland, and the festival's PR agency and advertising firm for misleading them. Their filing asserts that the festival founders sent out cease-and-desist letters to attendees who were criticizing them on social media. Yes, the whole world was roasting the Fyre Festival, but certain people heard from their lawyers (Don't come after Someecards, please).
"Those individuals who elected to speak negatively about the Defendants on social media, they are now being threatened with legal action via cease-and-desist letters," the complaint reads. "Specifically, if the social media comments were not taken down, the Defendants claim they could 'incite violence, rioting, or civil unrest,' with the caveat that if 'someone innocent does get hurt as a result … Fyre Festival will hold you accountable and responsible."
That's right: Don't hate the player, hate the person who exposed the player for putting people into dangerous situations.
The suit also said that the Fyre folks have deliberately made the refund process as misleading as the festival. "This refund 'application' is nothing more than an attempt to save face," the lawsuit states. "The Defendants should have information on each purchaser, and should not require an 'application' be completed simply to receive the refund."
Damn. The Fyre Festival is just the gift that keeps on giving.
Read the court filing here: