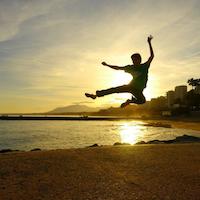 Filed by Mitchell Friedman

|

Jan 18, 2016 @ 9:18am
If you sold your car back when you had to sell your soul for a gallon of gas, you might want to empty the piggy bank, throw out your bicycle, and get some real wheels. At least that's a viable option for some people in Michigan, who are currently experiencing the beautiful reality of sub-dollar gas.
According to reports from Gasbuddy.com, which provides a "real time gas prices forum," cited by Detroit's local Fox affiliate, a possible price war between stations in Houghton Lake, Michigan is responsible for the basement level prices. Daily Detroit refers to Gas Buddy forums that reflect a $.78 per gallon price at Beacon and Bridge Market and a $.95 per gallon price at another service called the Marathon.