Cody Williams from Milwaukie, Oregon got the ultimate conversation starter that has launched him into viral fame with the official handle "Guy With The Funny Tattoo."
Behold:
That's right, Guy with the Funny Tattoo (sadly not the name of a hot new Swedish crime franchise) basically has Abbott and Costello's "Who's On First?" on his arm, engaging in a wild back-and-forth with anyone who asks.
Williams told LadBible the origin of this instant classic.
I'd always liked the way Chinese symbols look, but hate that everyone always gets generic meanings tattooed like 'love', 'hope', 'courage' and stuff like that which gets old.

I also knew I'd constantly have a lot of people asking me what my tattoo said if I decided to get Chinese symbols on me and thought of this as a clever way to mess with almost everyone I meet and give us both a good laugh.
He checked in with a friend who speaks Chinese to make sure he wouldn't be duped.
Williams got the script tattooed three years ago, but just recently has just added the color. Thankfully, he has no ragrets.
I got this three years ago, when I was 19, and I still love it.

I can even picture myself as a grandfather being asked what my tattoo says and telling my grandchildren, "I don't know, I don't speak Chinese."

And never explaining it to them as they get older.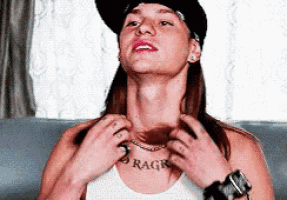 Williams is not the only one with a hilarious tattoo.
All my props to the people who love dad jokes so much they tattoo them on their bodies for all eternity.