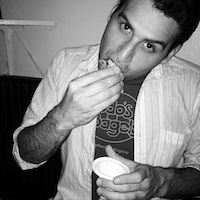 Filed by Jake Currie

|

May 19, 2015 @ 10:31am
Man has been visually documenting his food since before the dawn of civilization:


"Brunch with my betches! #paleo #nocarbs #SundayFunday" (photo via Wikipedia)
But recently one restaurant/winery duo kicked things into overdrive by offering dishes designed to help you capture the perfect Instagram of your tater tots (they probably don't serve tater tots).

Behold: the foodture. (photo via Foodography)

"Foodography," a joint photography project between Catit Restaurant and Carmel Winery in Israel, is working with an artist to develop a line of smartphone-holding dishes that will allow even the most inept food photographers to shoot amateur POV food porn that looks professional.