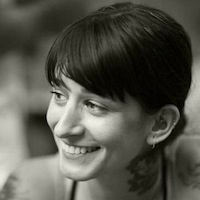 Filed by Jessie Dean Altman

|

Mar 22, 2016 @ 10:17am
On March 20, 18-year-old Devin Washington was interviewing for a job at a Popeyes in New Orleans when someone tried to rob the restaurant. According to Danyanna Metoyer, the manager conducting Washington's interview, a man (later identified as Pablo Ciscart, 50) came into the restaurant, asked the cashier if she could change a dollar, and then reached over and grabbed the money from the register.
According to a police news release, the assistant manager, Dominique Griffin, tried to grab the guy, but he broke free from her and ran for the door. But Metoyer blocked his exit. "My upper-body strength was stronger than his, she told the Associated Press. Meanwhile, job interviewee turned hero Devin Washington grabbed the man's arm and bent it backward. His future coworker, cook Michael Ford helped Washington hold the robber while they waited for the police to show up.