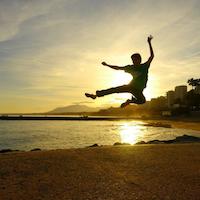 Filed by Mitchell Friedman

|

Jan 25, 2017 @ 9:54am
In a social media back and forth that is almost too ridiculous to be anything but a banned episode of Boy Meets World from the college years, a Bowling Green State University student tweeted a video of a Ku Klux Klan member on campus.
The grainy, blurry video shows the inside of a classroom, where it appears a hooded figure is looming over students.
Now, before you check out the president of the university's response to the situation, it's important to note that other Twitter users also said that there's an "active KKK chapter in the city," and the original student agreed.
What was in that classroom, though? Well, let the university president take it from here:
Here's what she saw through the window:
The Bowling Green student acknowledged her mistake, but still made the point:
@PresidentMazey Thnk u so much for clarifying what this was! even tho the hate group still exists in BG I'm glad this WASN'T what I thought!

— A. 💁🏾 (@autumpatrice) January 23, 2017
Others just made jokes about Scooby Doo:
We're relieved that it turned out to just be lab equipment. But what's it say that a student is so on edge she expects to see the KKK in a classroom in broad daylight?