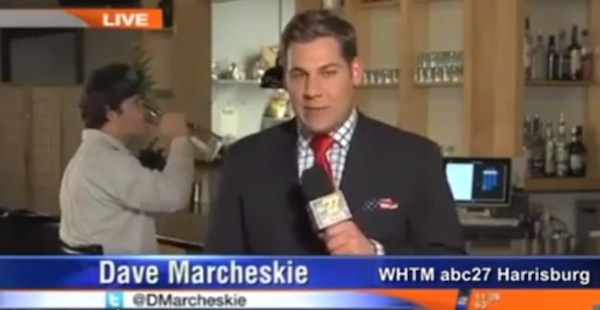 CBS wuz here.
Dave Marcheskie of ABC27 Harrisburg was reporting live from the victory party of a newly elected congresswoman when he got videobombed by a guy drinking water from a flower vase. Marcheskie reported the details of Patty Kim's win, completely oblivious to the man behind him.
The totally bizarre but very distracting prank was pulled off by Frank Treese, an IT guy from rival local station CBS21. 
ABC27's new director Dave Jones was not amused. "We prefer to focus on the story that we were there to cover," he told PennLive. He's clearly forgotten what the story actually was thanks to that distracting sipper. Darn pranksters!
It appears we're going to have to take sides here, and so we shall. ABC27 sucks! Go CBS21! Woo!
(by Shira Rachel Danan)