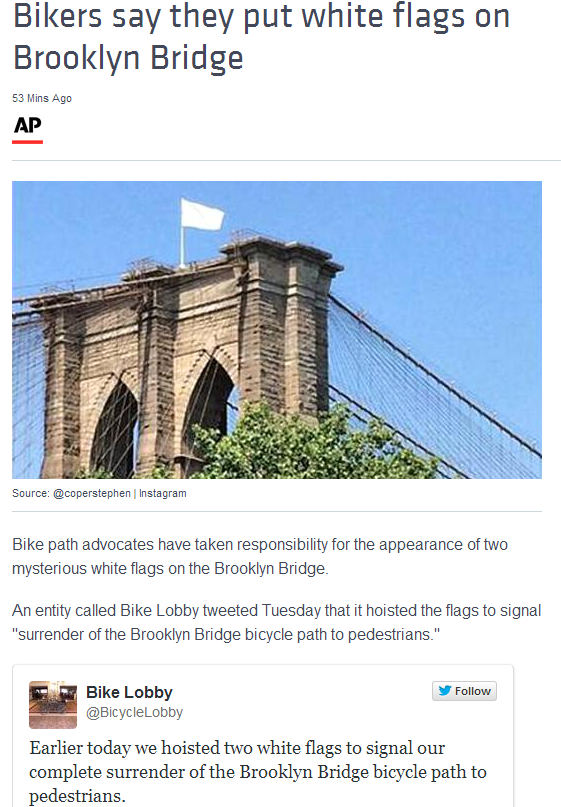 Even by crazy bicyclist standards, this doesn't come close to making sense.
New York is the news capital of the planet. When news happens in your corner of the world, it gets typed up here. So, you'd think that when two huge white flags mysteriously replaced the American flags that normally fly above the pillars of the world-famous Brooklyn Bridge, which was a real thing that happened this morning, reporters would be chasing down leads and questioning sources left and right. You would be wrong, of course, because terror implications or no terror implications, New York reporters would prefer to finish writing their story before lunch rather than take the boring, painful time to actually figure out the truth.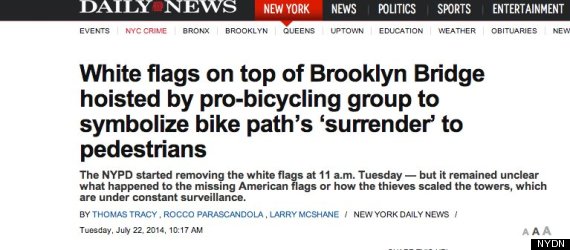 Thomas Tracy, Rocco Parascandola and Larry McShane: great work, fellas. (via HuffPo)
Take, for example, the New York Daily News. A proud newspaper with a long and storied tradition, maybe they wanted to put out an explanation for the story faster than their more-famous rival, the New York Times, who were busy waiting on comments from city and law enforcement officials. So, they put someone on it. In fact, they put three someones on it. Those someones weren't on it for very long, and they didn't look very hard, but gosh darnit, someone put out a story real fast. 
Stop us if you've heard this one before. How many Daily News reporters does it take to not fact-check a story?

— Bike Lobby (@BicycleLobby) July 22, 2014
That story credited the flag stunt with a heretofore-unknown radical bicyclist interest group behind the Twitter account @BicycleLobby. They said that they had scaled the towers and installed the flag (which required using aluminum pans to block out lights and get over sharp barriers), in order to symbolize their surrender of the bike lane to pedestrians on the bridge. It was totally wrong. Not only was it wrong, but they don't even have an excuse for getting trolled.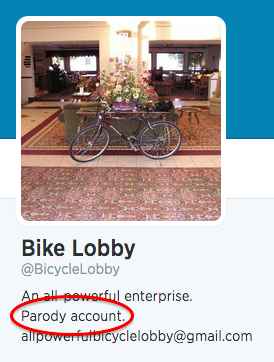 Bicycle Lobby says right there in their description that they are a parody account. Right. There. When I say they weren't trying very hard to fool news agencies, I mean they weren't trying at all to fool news agencies. I don't think it even occurred to them that that was a possibility. Bicycle Lobby spent the rest of the day having a lot of fun with it.
Please follow this incredible parody account. It goes by the Twitter handle @NYDailyNews http://t.co/WUufRFnFy1 pic.twitter.com/rXzR1JAwDd

— Bike Lobby (@BicycleLobby) July 22, 2014
The story was also picked up by the AP, which means it pretty much went global. I don't recommend thinking too hard about the implications of this, because basically it means that there's a good chance that everything you read is not just inaccurate, but moronically so. 
Stick a front fork in us, everybody. Our work here is done. @AP pic.twitter.com/ndEVkdzxZq

— Bike Lobby (@BicycleLobby) July 22, 2014
The news is run by people, and people are morons. Fortunately, that means we're all morons, and we can ask our moron brains to forget this and go back to being gullible and pretending that news agencies have real authority and gravitas.
Well, it's been a fun day. We're off now for our daily ride with Beyoncé. Meeting her at the bridge. pic.twitter.com/K5gg69zj90

— Bike Lobby (@BicycleLobby) July 22, 2014
Basically, it's time to wave the white flag and surrender ourselves to the fiction that we live in a world filled with responsible people doing smart things. Ah, that feels better.
Just so we're clear: no one has any clue who put up the white flags or why. It's apparently not terrorism, though. So, you know. That's good.
(by Johnny McNulty)