Why can't it be both? (via My Social Sherpa)
Now, this is how you prank someone in 2014. Brian Swichkow is a nerd and "a serial entrepreneur and perpetual life hacker" who runs the Internet marketing blog My Social Sherpa, but he should really consider a career as a professional prankster. A while ago, when looking for a roommate, Brian found another nerd who had already discovered all of his personal details online before responding to Brian's Craigslist ad. While most people would be unnerved by this creepiness, Brian and he bonded over their love of Dr. Who and, apparently, unearthing people's secrets online. 
Then, Brian's roommate teamed up with a friend of Brian and played a "rather elaborate prank" on him. Brian vowed revenge. Thorough revenge.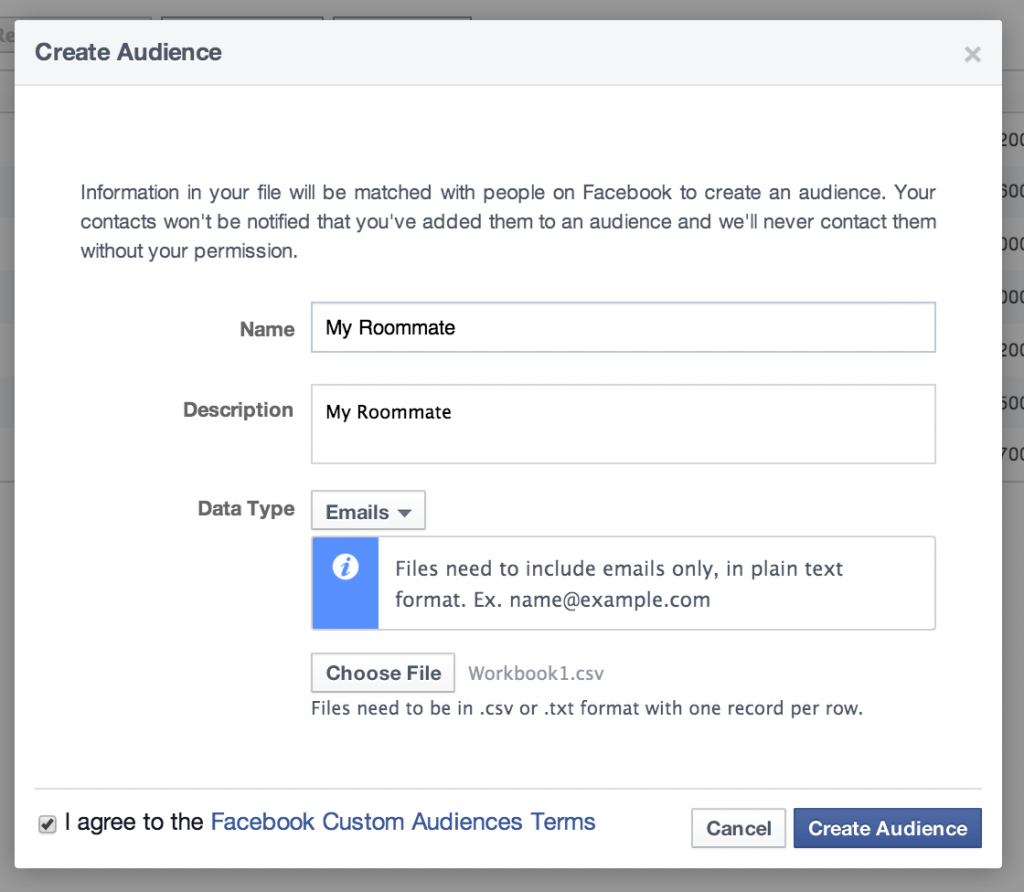 Apparently, the Facebook Custom Audiences Terms don't include "no pranking."
(via My Social Sherpa)
His opportunity came when he was working on his Internet marketing job, designing targeted ad campaigns on Facebook (you know, the reason Facebook really wants all your information). Although he was working on campaigns that targeted thousands of people, he suddenly wondered: what's the smallest number of people you can target with Facebook ads? The answer, it turns out, was one: his roommate. (They've since changed the minimum to 20 people, but you can get around it by making 19 of them the opposite sex and creating a gender-targeted ad.)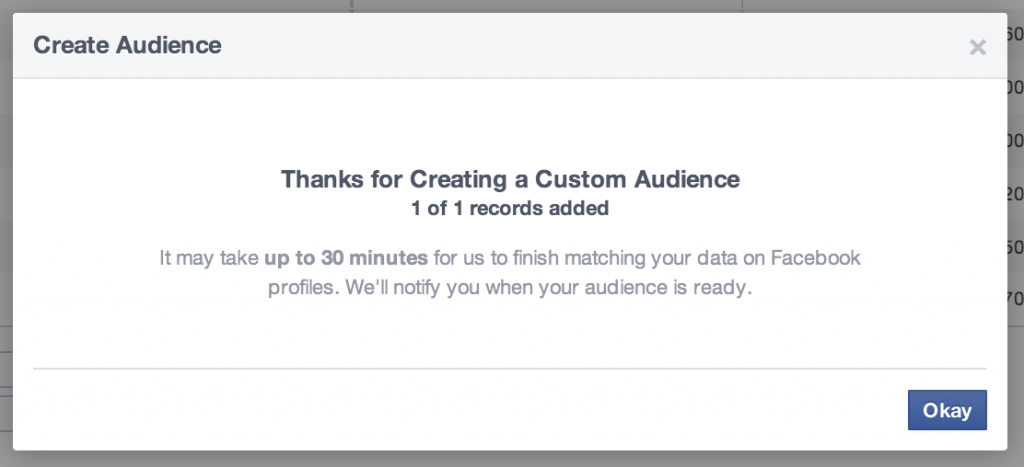 (via My Social Sherpa)
Now came the deliciously evil part: convincing his roommate that Facebook knew more about him than is possible, even by the dystopian standards we live by today. We all know that Facebook targets ads to us. We can usually guess why we're seeing the ad ("Why yes, I do live in Brooklyn and wear sneakers!"), but they never say exactly why. Also, Facebook tracks all your online activity, so it could be anything you do online. 
It is necessary to mention at this point that in addition to being a huge nerd who taught himself computer programming before owning a computer, Brian's roommate is a professional sword swallower who can ingest up to 26 inches of blade. In an ironic twist of fate, however, the sword-swallower cannot take a pill without gagging. Weird, I know, but not as weird as it must have been to see this: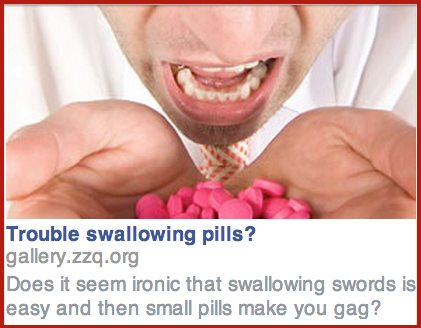 Something something penis joke. (via My Social Sherpa)
Understandably, this weirded out Brian's roommate, but at this point it was merely amusingly scary, and Brian was able to openly respond to him and egg on his paranoia without the roommate getting suspicious.



(via My Social Sherpa)
The first blow had been struck, and the seed of doubt planted. All Swichkow had to do was keep sending his roommate ads that were too targeted to be normal, but not specific enough to prove it was Swichkow sending them.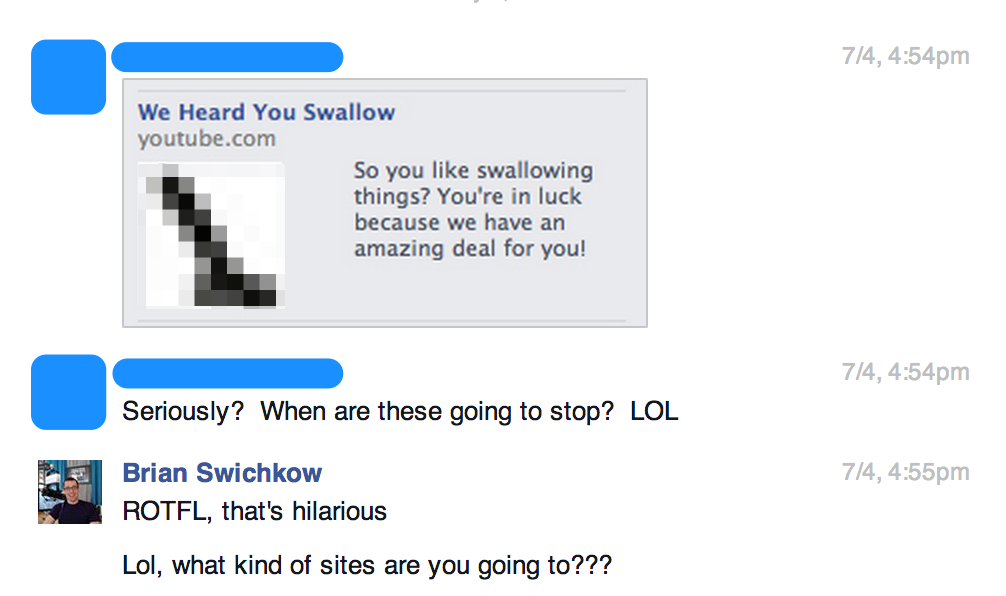 (via My Social Sherpa)
Unfortunately, Brian started getting a little cocky and almost blew the whole thing by referencing an inside joke: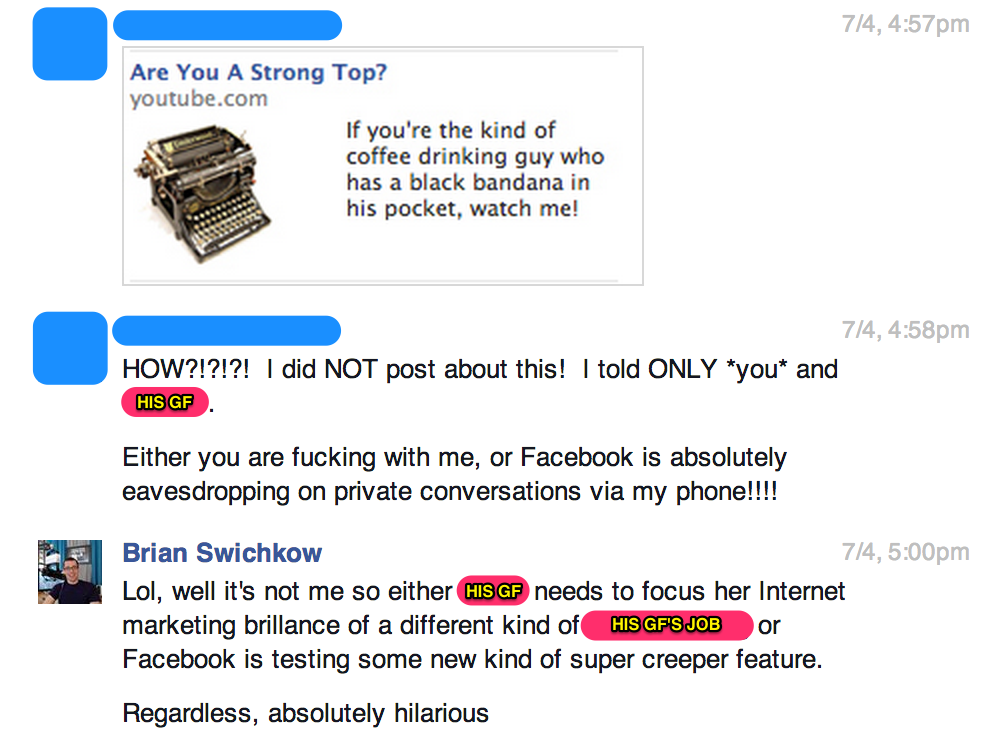 (via My Social Sherpa)
After this, Swichkow was worried he'd get caught, so he laid off the pranks. He forgot about it for a while and assumed that it was over. However, he didn't consider the effect that the constant news reports about Edward Snowden's revelation that the NSA was spying on everyone would have on his roommate. The guy became more and more paranoid as time went on, thinking Facebook and the government were tracking him. 
One day, Brian called him with a routine question, which was answered with "not over the phone." Combined with his roommate constantly jumping out of his chair when people said hi, Brian realized that never revealing the prank to his roommate had caused some residual damage, to say the least. So, out of mercy, he created one last ad.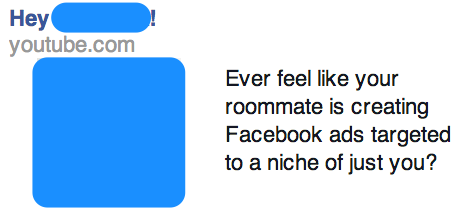 (via My Social Sherpa)
This came as a huge relief to the roommate, whose fantasies about being tracked by the NSA were spinning out of control. It also, I think it's fair to say, won Brian the prank war.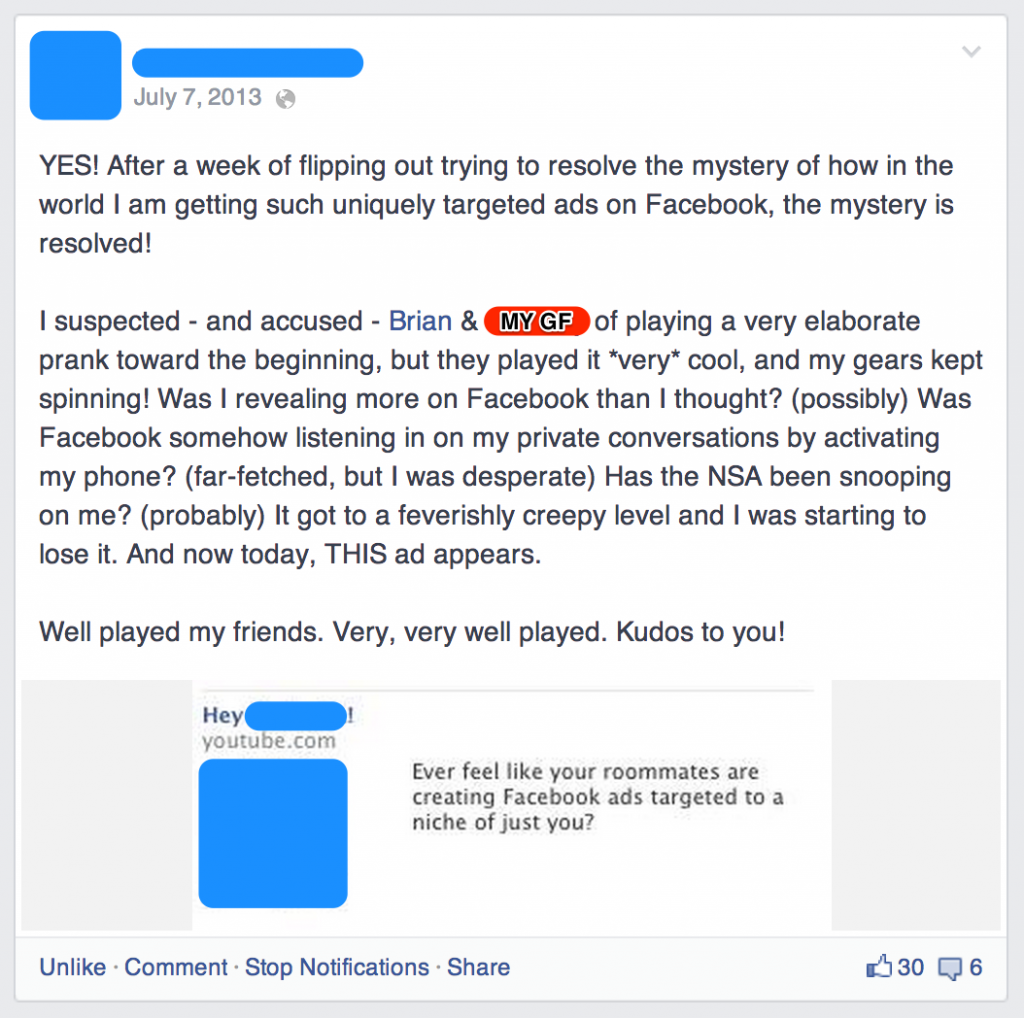 (via My Social Sherpa)
All this, by the way, cost Brian $1.70. I think it's fair to say Brian is pretty good at Internet marketing. If you would like to learn from his expertise (he's like a one-man "earn money from home!" ad except he seems to actually know how to do it) or read a more detailed version of how he pulled this off, check out his blog, My Social Sherpa.
(by Johnny McNulty)