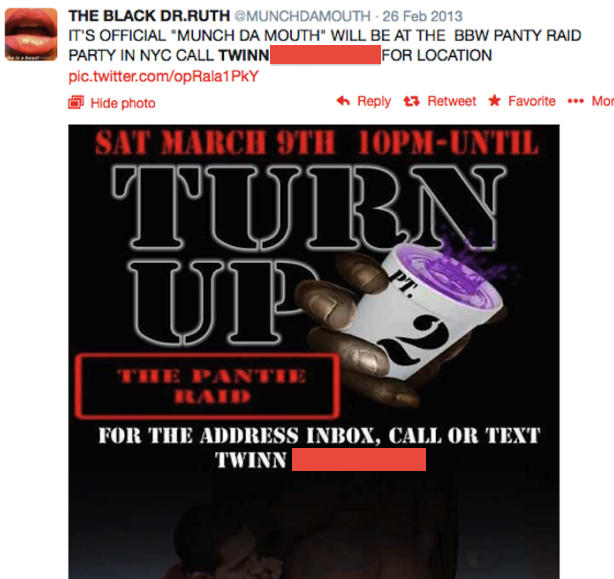 I see a spinoff called AirbnBBW in the future. (via Ari Teman)
If you were thinking about renting out your apartment in the near future, consider adding a clause about hosting Internet-organized husky orgies in your home. Apparently, for some people you need to spell that out.
New York comedian and Jewish charity founder and volunteer network director Ari Teman, 31, has been renting out his apartment in the Chelsea neighborhood of New York on Airbnb periodically for the past year. I guess between his jobs he travels often enough, and he says he's had "positive results" with it so far. In an open letter posted on Tumblr this Saturday, however, he had this to say: "You just sent a porn sex fest into my apartment, and now I've got over $87,076 in losses." So, he might have changed his mind over the whole unregulated house-sharing thing.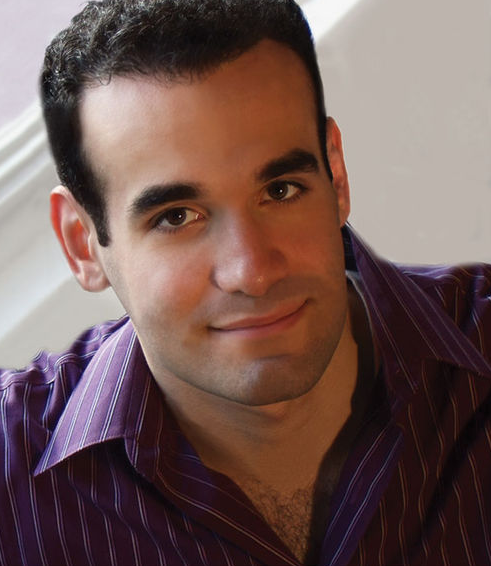 Mr. Teman, pictured here in some place not yet sullied by orgies organized on social media.
(via Wikipedia)
Since he was still a fan of the service at the time, however, it seemed par for the course when he got a message from David Carter, 32, seeking a place for his folks to stay while they were in town for a wedding.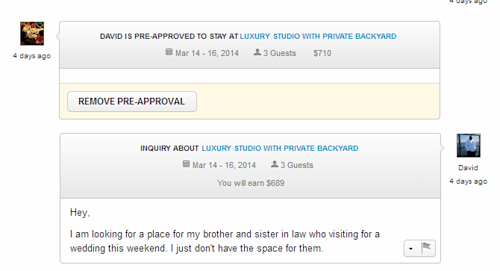 David apparently had several positive reviews prior to this. He has since been banned. (via)
So, Ari prepared to clear out. He packed a suitcase, left it with his doorman, and went to dinner. When he returned around 11:30pm to retrieve his suitcase, he saw David in the lobby huddled together with other people, saying "they shut us down, man, they're shutting it down." When David walked up and asked what was being shut down, the man reacted with "a look of horror" because "he didn't expect to see me for a few days."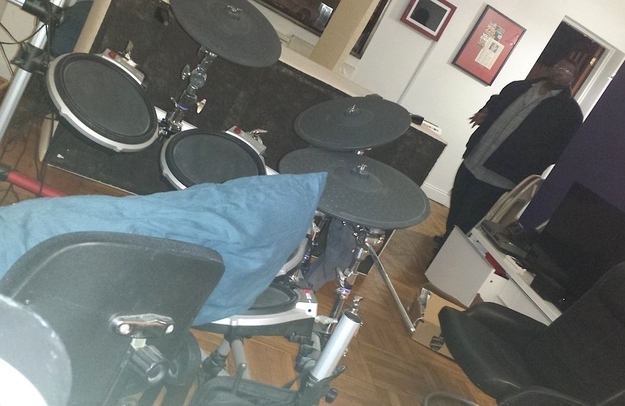 This, apparently, is David. (via BuzzFeed)
Mr. Teman rushed to his apartment to find scantily-clad people of ample proportions rushing out of his apartment and coming in from his back patio. "The worst part of the Internet was right there in my apartment," said Teman. According to Teman, they had damaged his furniture and a number of personal items including a Fender guitar. In addition, lots of things were wet, to which Teman wrote "I don't even want to know how." He ended up calling the police to help clear out his apartment.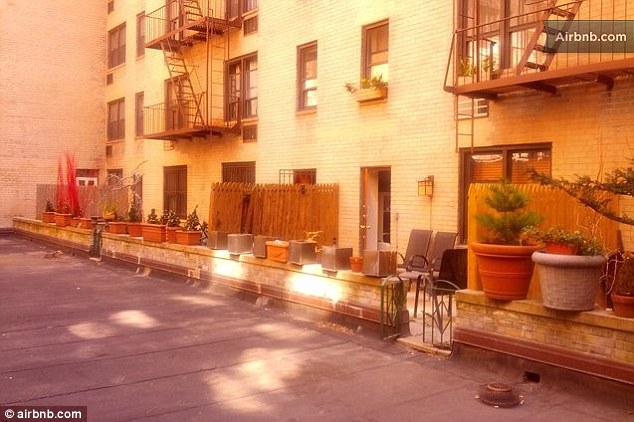 As a New Yorker, I can tell you that this is far too nice for a loud party even without BBW orgies.
(via Airbnb)
Mr. Carter insists he did nothing wrong, and that the terms of his agreement allowed him to have up to 50 people. Teman told BuzzFeed, jokingly, "in his defense I did not specify the no orgy policy." This, in fact, was the policy that was interpreted to mean that orgies were OK: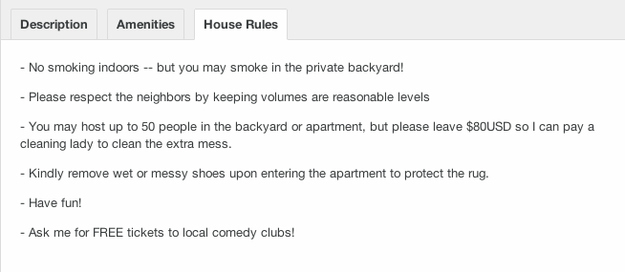 I hope they got those comedy club tickets before everything went south.
He knows that it was the worst part of the Internet because when he googled the number David had listed on his Airbnb profile, it led him to a tweet from @MUNCHDAMOUTH (aka "THE BLACK DR.RUTH") a "BBW PANTY RAID," for which people could call "TWINN" to discover the location. Among other plentiful bounties, the poster seems to be advertising the copious presence of drank:
Warning: NSFW below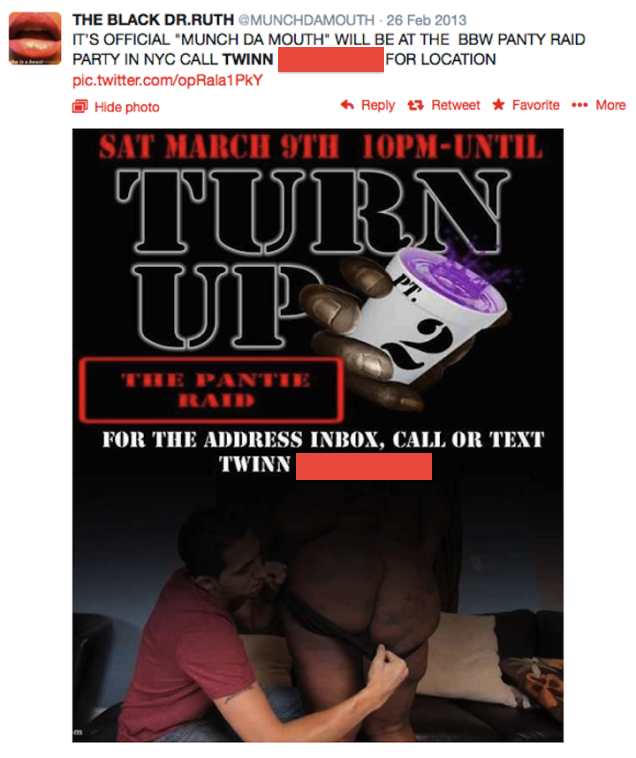 Will I be able to understand it if I haven't seen Turn Up Pt. 1?
(via Gawker)
In addition to THE BLACK DR. RUTH (whose profile on xvideos Teman found, and you can see here if you really, really insist), Teman was able to locate the TWINN you were supposed to call by searching for his apartment's address:


Etiquette tip: XXX FREAK FESTS are not events where being fashionably late is acceptable.
(via)
According to BuzzFeed, whoever it is that does actually answer that phone number said upon being reached, "there was no party yesterday" and denied any knowledge of the flyers tweeted with his number.
Mr. Teman has since taken his grievances up with Airbnb, from whom he is seeking to recover the damages. He says he will not rent out his home any more, and that although there have been "some really lovely stories...it's really tainted by the orgy." He's also cast doubt on the honesty of the ratings system, since David Carter was a verified user with several positive reviews.
@bchesky @airbnb you sent an "XXX Freak Fest" into my apt. $67k+ in damages. Call me now. Fix this today. Had to call NYPD. Emailed you.

— Ari Teman (@AriTeman) March 15, 2014
If there's one thing social media is good for, it's loudly airing really entertaining complaints.
 
@Airbnb take your time. It's only a disgusting, illegal, dangerous sex ring you put into my home with my address and keys. Brian, call me.

— Ari Teman (@AriTeman) March 15, 2014
Who says running a corporate Twitter account isn't a stressful job?
To its credit, by the following day Airbnb had sent a locksmith to change Teman's locks, put him up in a hotel and wired him $23,817, although clearly Teman is asking for over $60k more. In response to all the media focus, Airbnb has been giving out this standard response:
"Over 11 million guests have had a safe and positive experience on Airbnb and problems for hosts and guests are incredibly rare, but when they happen, we try to help make things right. We were appalled when we learned about this incident and we took immediate action to help this host. The individual who rented this space has been permanently removed from our site. We've reimbursed the host for damages to his apartment and ensured he has a new place to stay. In the days ahead, we'll continue to work with the host to assist him with his additional needs and we will work cooperatively with any law enforcement agencies that investigate this matter."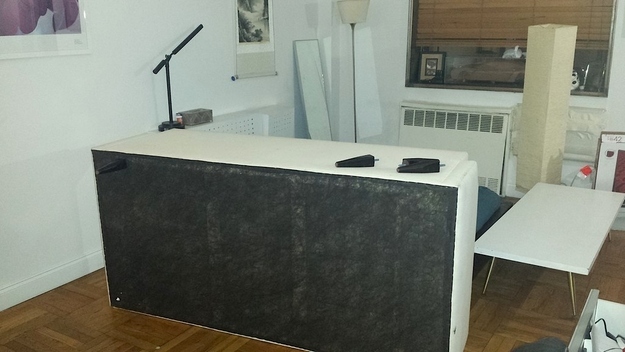 They apparently needed the floor space. (via Airbnb)
Mr. Teman says he will now have to move, both because he feels unsafe and can't look at his neighbors, and because he's being evicted. In the meantime, there's a brand new place on the market that's just perfect for get-togethers.
(by Johnny McNulty)