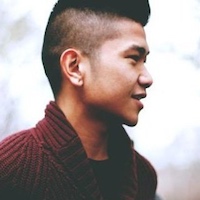 Filed by Keith Estiler

|

May 16, 2016 @ 9:29am
Last Wednesday, a man named Santiago Portillo rescued a motorist from a burning car after it crashed and flipped in an alleged street racing incident in Los Angeles. Before he dragged the man out from the wrecked car, Portillo apparently set up the camera on his phone to record the incident.
In the video, you can hear Portillo saying "Oh shit bro," as he pulls the injured driver away from the car. You see him urging bystanders near the scene to call 911. One guy produces a fire extinguisher, and another pedestrian helps carry the driver to safety. Immediately after, Portillo grabbed his phone and continued recording the bruised and bloodied man.