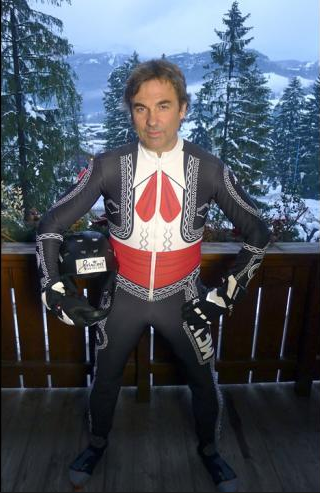 He designed his suit himself to show just how in touch with Mexico he is.
"In life," said the 55-year-old Prince Hubertus of Hohenlohe-Langenberg, "you have a couple of opportunities and openings." Like being born a descendent of the former rulers of a German principality? "And one of them was that I was born in Mexico." Ah yes, being Mexican—the greatest good-luck charm of them all.
This, ladies and gentlemen, his how Prince Hubertus became Mexico's one-man Winter Olympics team. As you may know, Mexico is a warm nation. Which is why their only skier is a noble who lives in Cabo San Lucas for a few weeks out of the year and spends the rest of his time in Europe skiing the Alps (and pursuing his careers as a photographer and singer). He's also the second-oldest Olympian in history, and this year will break the record for having competed in Winter Olympics the longest, at 30 years.