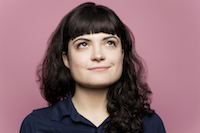 Filed by Jaime Lutz

|

Dec 28, 2015 @ 11:13am
A man spent a year of his life building a 7,500-piece, three-foot-long Lego version of the Millennium Falcon, the spaceship famously piloted by Han Solo and Chewbacca in the Star Wars movies, and even if you think that's the nerdiest sentence ever written, the finished product is pretty cool.
It's apparently the version of the Millennium Falcon from the most recent Star Wars movie, since there have been some adjustments made over the years. Makes sense—in a different galaxy, Han Solo would totally be that guy adding sweet mods to the car he built in shop class (you know he bored Leia half to death talking about his adjustments to the hyperdrive).