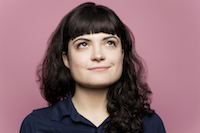 Filed by Jaime Lutz

|

Apr 29, 2016 @ 7:03pm
Today in new paranoias to develop: Michigan woman Megan Pearce is suing a police officer for tapping her baby monitor in order to watch her breastfeed. Her lawsuit claims that the officer, "who is paid to uphold the law, perversely and illegally spied on her and her infant son, in one of the most intimate and private moments between a mother and her baby imaginable, to satisfy his prurient voyeurism."
Here's how the officer, Michael Emmi, allegedly did this: he arrested the mother's fiancé, a licensed medical marijuana caregiver, on charges of having more than the legal limit of marijuana. Emmi then confiscated the man's iPhone—which had a baby monitor app on it—as evidence.