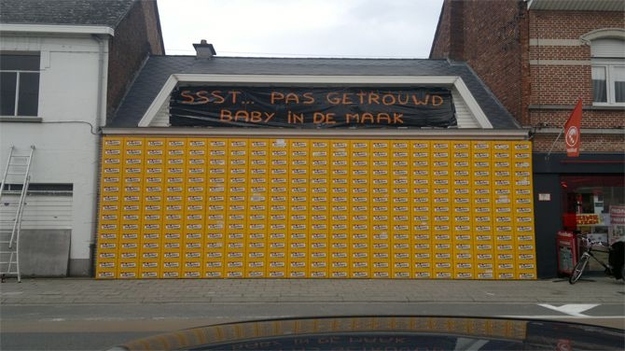 Maybe there'd be a baby in de maak if it wasn't so damn hard to get into their house! (via)
A Belgian couple, Sofie Verret and Gerry Dumortier, returned home after their wedding to find a huge effing mess that they sure as hell weren't going to clean up. Their group of friends, who have long engaged in over-the-top wedding pranks, outdid themselves this time in terms of causing inconvenience. First, thanks to 315 beer crates (above) blocking the entrance to their home, Sofie and Gerry spent 20 minutes using a box cutter to get inside. Their house was also decorated with a sign that said "Shh...newlyweds. Baby in the making," which was probably really hard to get down.
Their reward once they got in was to find 7,500 empty beer bottles scattered on their back lawn, spelling out their initials and a heart. It was like the aftermath of a really fastidious frat party. Allegedly, Sofie and Gerry's friends helped them clean up, although I can't imagine a group of people who just drank 7,500 beers were really all that industrious.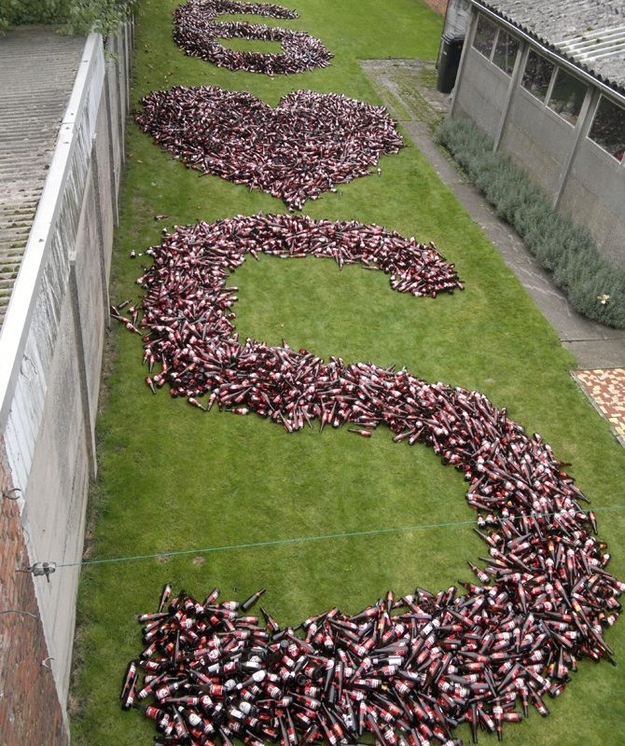 "Sofie, get the bottleblower!" (via)
(by Shira Rachel Danan)